There are many resources that can help find quality commercial real estate comps. Still, not all "commercial comp" data is a true, bona fide comp. Oftentimes, what a database offers as a commercial lease or sales comp may be an expired listing. Data type and quality matter.
Finding commercial property comps might require hours (if not days) of work, countless phone calls, and excruciating research. Similar properties might not be what they seem, or the comp info might be unavailable.
Let's look at what commercial lease comps and commercial sales comps should contain. Then we'll compare some resources that provide this data.
Related Article: Catylist vs. CompStak: Pricing, Reviews & Features
To be truly valuable to the CRE professional, a commercial lease comp should contain:
1. Full Address
2. Tenant Name
3. Space Type (office, retail, industrial, etc.)
4. Transaction Size (SQFT)
5. Starting and net effective rents
6. Execution Date or Commencement Date
7. Lease Term (months or years)
8. Lease Expiration Date
9. Landlord Concessions (TI / Work Value and free rent)
10. Lease type (NNN/full service)
11. Transaction Type (i.e. Renewal)
Meanwhile, a commercial sales comp should contain:
1. Full Address
2. Buyer and Seller
3. Transaction Date
4. Transaction Size (SQFT)
5. Sale Price / Sale Price per Square Foot
6. Property type (office, retail, etc.)
7. Cap Rate
8. NOI / NOI PSF
9. Opex / Opex PSF
Now let's take a look at the top tools out there that can accelerate the comp finding process, improve search efficiency, and provide truly relevant data.
Related Article: CREXi vs. CompStak: Pricing, Reviews & Features
1. CompStak — Detailed, accurate, useful comps
A commercial lease and sales comp data provider, CompStak has been offering commercial comps to CRE brokers and appraisers since 2012. Since the data is crowdsourced from over 20 thousand verified and active professionals at commercial brokerages and appraisal firms, CompStak is known for its highly reliable and accurate comparables data.
Free or paid?
Free for any professionals working for CRE brokerage or appraisal firms.
What makes CompStak stand out?

Deal by deal lease comps, in addition to property, submarket, and market averages

Data granularity and hard-to-find details. CompStak contains all the data fields mentioned above, for both lease and sales comps


Certain deal details (e.g. real starting rent, landlord concessions) are only available on CompStak and not elsewhere

Users can save time and find the exact comps they need through 20+ data filters

Limitations
Membership is free but only for those working in CRE brokerage or valuation. Other CRE professionals can purchase subscription services through CompStak Enterprise.
Related Article: LoopNet Alternatives For Online Real Estate Resources
2. CoStar — Property database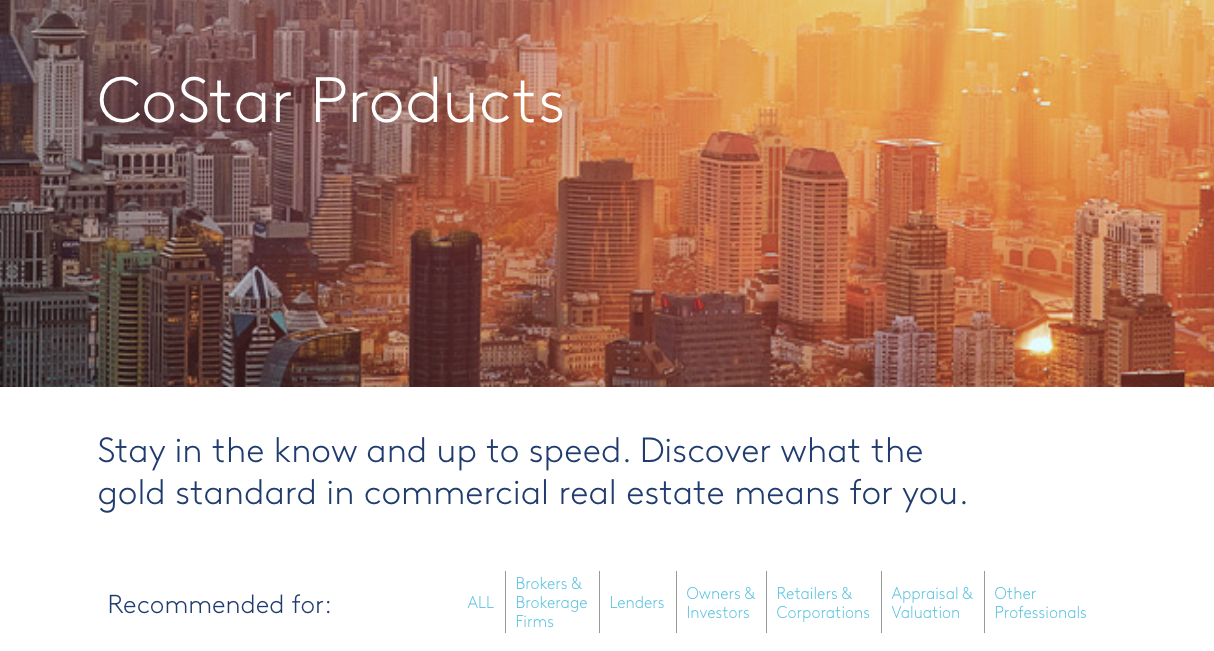 CoStar is a commercial real estate information platform with an extensive property database on assets in the US, Canada, and the UK. CoStar emphasizes their ability to identify owners of recently purchased properties to help target appropriate buyer demographics.
The platform also offers an interactive map for CRE professionals to get a broad view of the commercial property comps. CoStar gives you traffic counts, nearby properties of interest, and other statistics CREs need in their due diligence and marketing of commercial properties.
Free or paid
The CoStar Suite, which includes CoStar COMPS, is available by paid subscription only.
What makes CoStar stand out
Very large database

Property photos are provided

Listings are also available through its affiliate, Loopnet

Limitations
There have been several reports that CoStar data may not always be accurate or complete. Real estate professionals complain that Costar is expensive and annual price increases are common.
3. LoopNet — Listings rather than comparables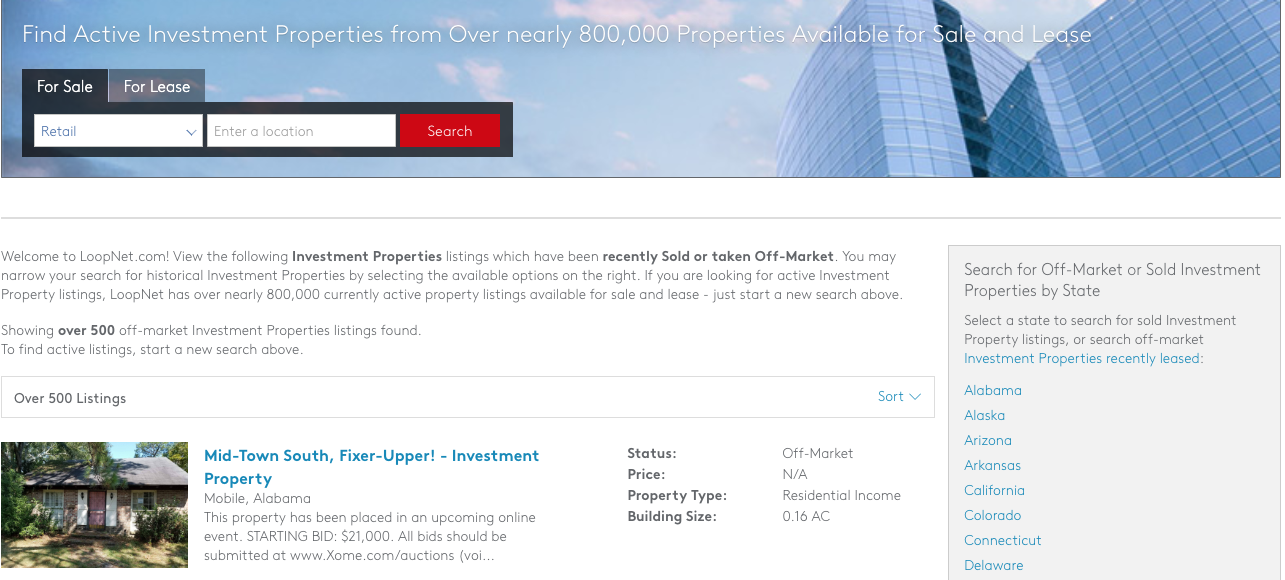 LoopNet's primary business is providing US commercial listings for property sale and lease with over 800K listings available at any time. It's one of the largest platforms of its kind in the US. LoopNet also provides information on properties which have been recently sold or taken off-market, however, this is not the platform's specialty.
From the company website, a number of real estate listings can be accessed, such as sold and off-market NNN properties, investment properties, office space, industrial properties, and apartment buildings. Unfortunately, the prices for off-market and sold properties are not included in the data provided. Since a comp needs to provide such data, LoopNet does not help you find actual comps.
Free or paid
Access to the LoopNet sold and off-market data is free.
What makes LoopNet stand out:
Typically over 500 properties in each category

Shows surrounding area demographic data

Displays similar listings nearby actively for sale/lease

Limitations
While LoopNet provides data on a wide range of properties, it's not really a commercial comp database but rather a commercial listings platform, showing availabilities, not comps. This is because rent data or sales prices are not provided for closed transactions.
4. Reonomy — AI and machine learning-based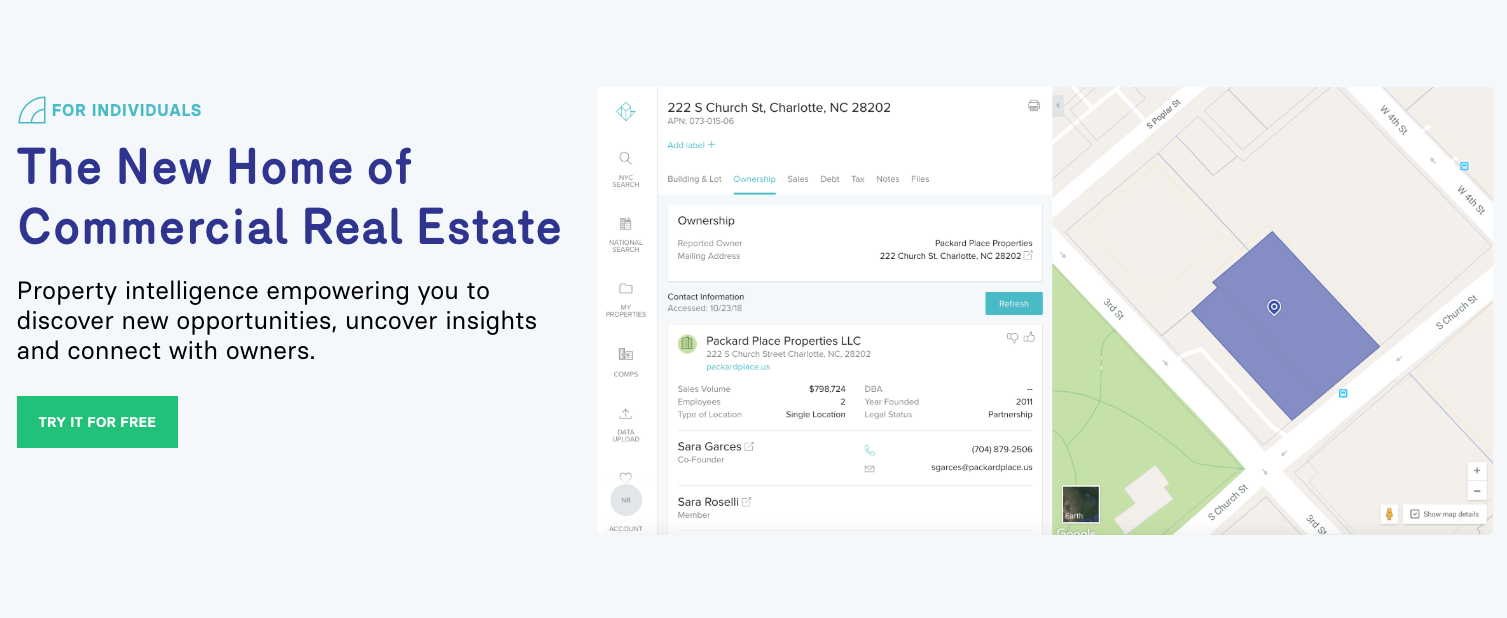 Reonomy is an online digital information resource for commercial real estate professionals. By using AI and machine learning tools, this platform puts advanced data to work to help find better property opportunities. Some owner insight provided includes portfolio data, transaction, and debt history.
Reonomy curates its data from a wide range of resources to build their database. It provides information, such as renovation details, sales history, opportunity zone status, and tax history. There are up to 100 data points on any particular asset.
Free or paid?
Individual accounts are offered by paid subscription. Advanced packages have more features such as tenant details and advanced filters. Team and enterprise deals are negotiable.
What makes Reonomy stand out?
AI/ML powered data discovery

Offers insight into many data points

Comp filters allow for more precise targeting

Limitations
The main drawbacks cited by Reonomy users are accuracy and cost. While machine learning may speed up processes, it's only as good as the data fed into the algorithms. Export functions could also be improved.
More importantly, Reonomy's data comes from public sources, which means that commercial lease comps are not available, and neither are commercial sales comps in non disclosure states. Sales comps will not contain information that cannot be found in the public record, such as net operating income and cap rates.
5. Real Capital Analytics — Global sales comp offerings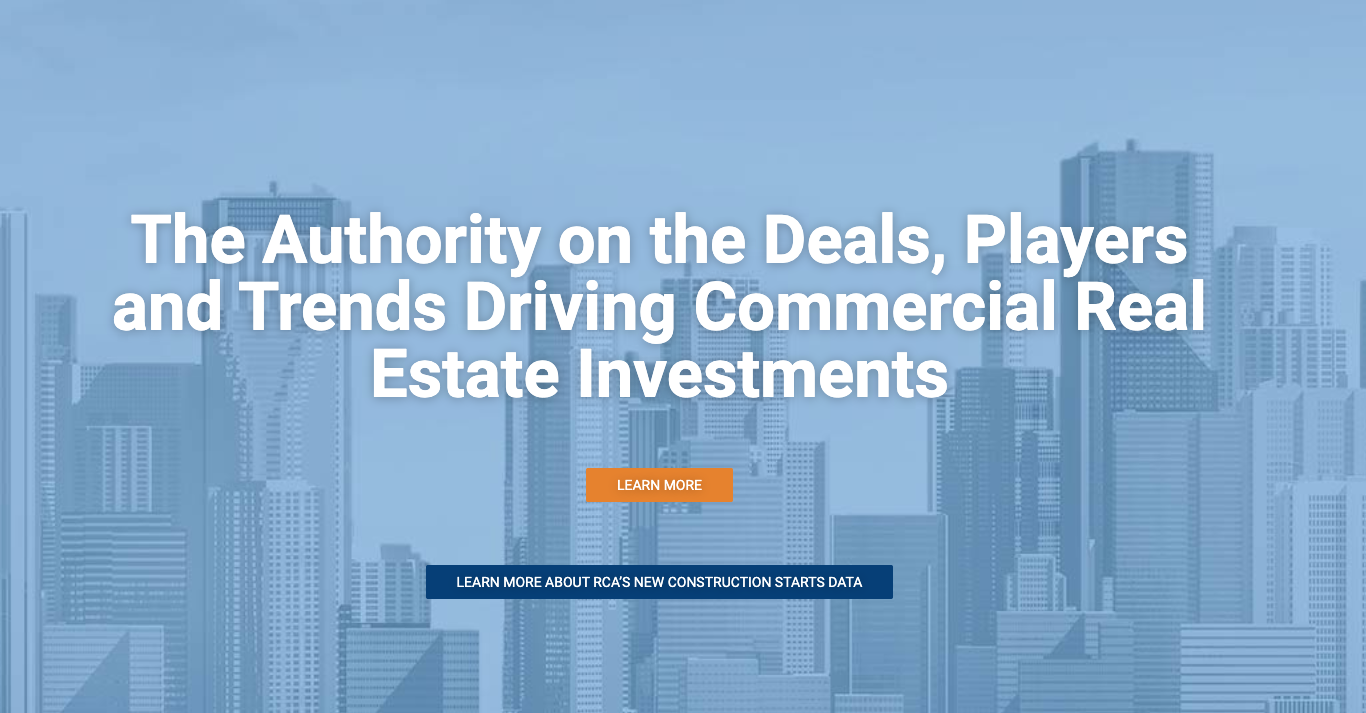 Real Capital Analytics (RCA) provides a large database of commercial real estate transactions, new developments, property sales, recapitalizations, and refinancing. RCA is headquartered in New York City, with offices in San Jose, London, and Singapore, and covers markets in the US, Europe, and Asia Pacific.
RCA tracks various sales transactions (but no leases) in real time, including closed and pending deals with continuous feedback from brokers, investors, and other data partners. The data is reviewed by analysts.
Free or paid
Access to the Real Capital Analytics database in only by subscription.
What makes Real Capital Analytics stand out?
Advanced data resource on current listings and sales comps

Focus on market pricing, capital flow, and investments

Gives micro (locality) and macro (country) market views

Limitations
As one of the costlier resources on this list, RCA has several limitations. To start, it only contains sales comps for commercial properties but does not have information on commercial leases. In addition, RCA doesn't track any sales below $2.5M and below in the U.S. market. The great majority of commercial property sales in the U.S. are under $2.5M.

6. CREXi — A growing commercial listings platform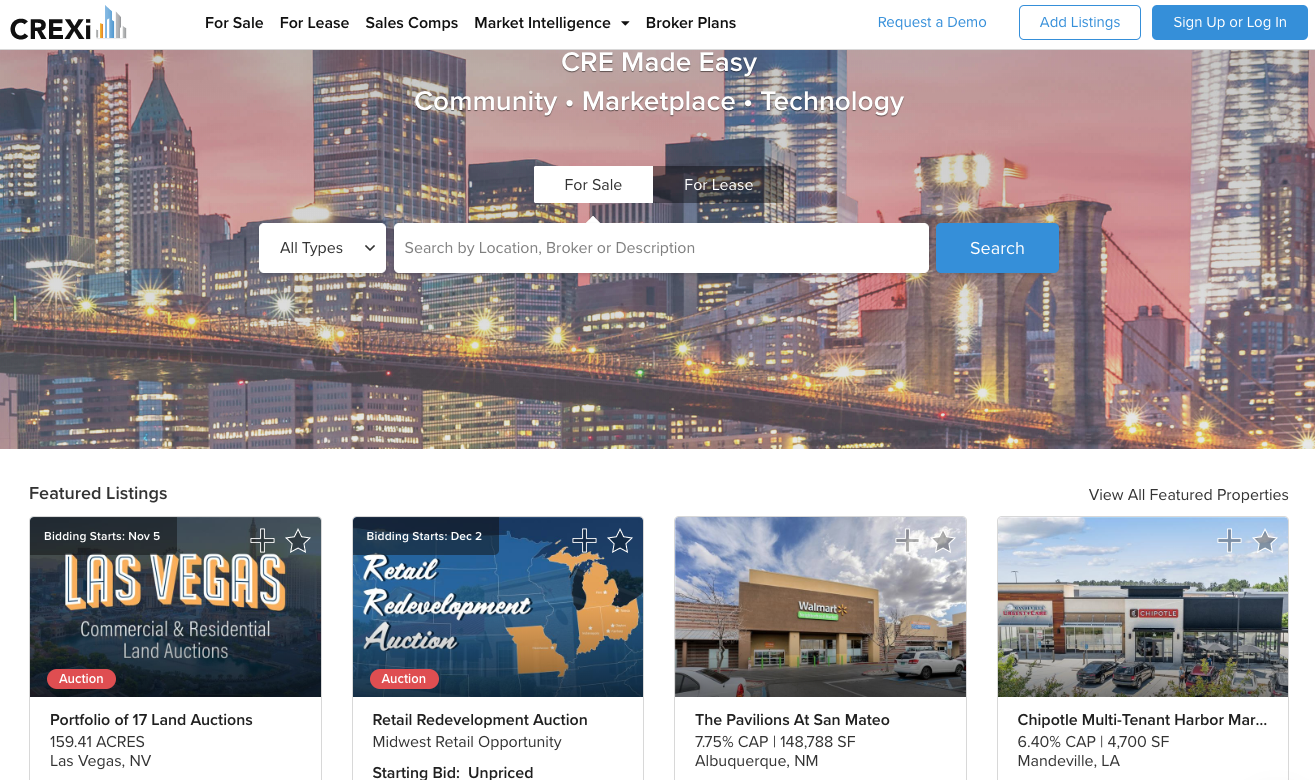 CREXi is an online commercial real estate platform that simplifies transactions for commercial real estate by helping manage the entire process from listing to closing. By moving the traditional CRE sales process online, CREXi implements advanced technology to make transactions more efficient.
Launched in 2016, CREXi has quickly become an active commercial property marketplace with over $600B in property value listed. CREXi has sales comps data comps in the 50 major U.S. metropolitan areas and counting.
Free or paid
The Free CREXi plan mostly targets expanding property listings reach, however, due diligence documentation is available. The paid Pro plan provides market intelligence data and professional level support.
What makes CREXi stand out

Excellent customer service


Offers listings data

Easy to use platform

Limitations
As a relatively new platform, the CREXi database may be limited in coverage compared to other solutions. Additionally, similarly to Loopnet, Crexi is designed to be a listings platform, not a comp platform.
7. Brevitas — Matches investors and sellers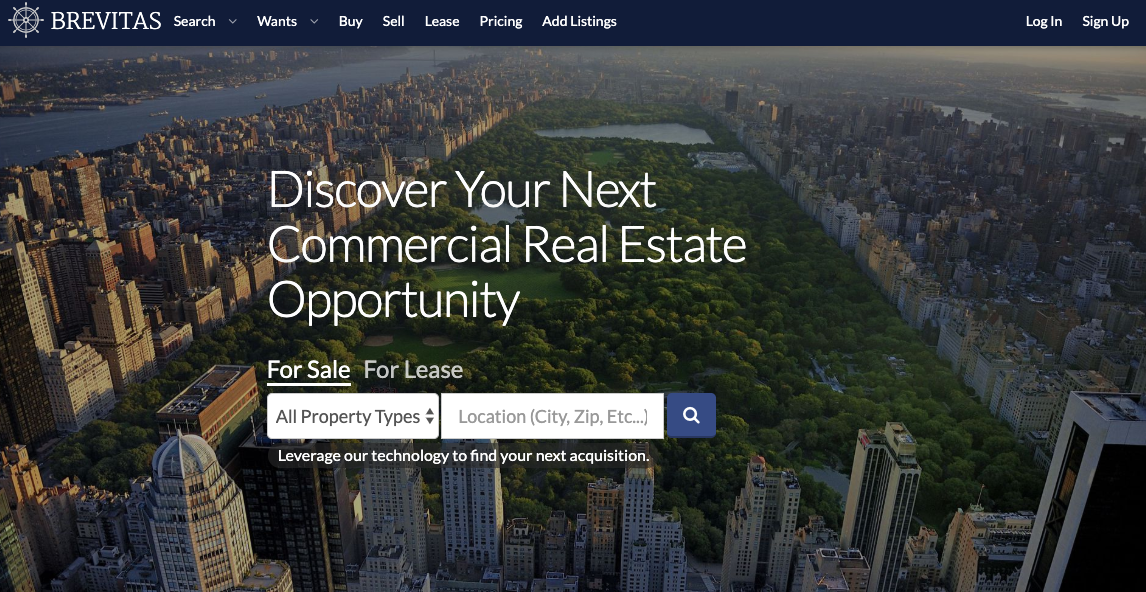 Brevitas is a digital commercial property marketplace, which focuses on private, open, and off market listings. Brevitas' areas of strength are investments and sales of multifamily, retail, office, industrial, development, hotel, and multi-use properties. Brevitas also provides digital marketing tools for CRE professionals to improve their visibility. Brevitas is geared more for property marketing and less for research and comp finding.

What makes Brevitas stand out?

Matches deals to pre-vetted investors

Uses advanced data algorithms to improve accuracy and speed

Higher end commercial property market

Paid or free?
On-market online listings are free. Advanced services, such as investor matching and marketing tools, require a paid membership.

Limitations
Brevitas does not provide actual commercial comp listings. It may use historical data, however, to improve results for users. Lease comps are not available either.

8. CoreLogic — Sales comps from the public record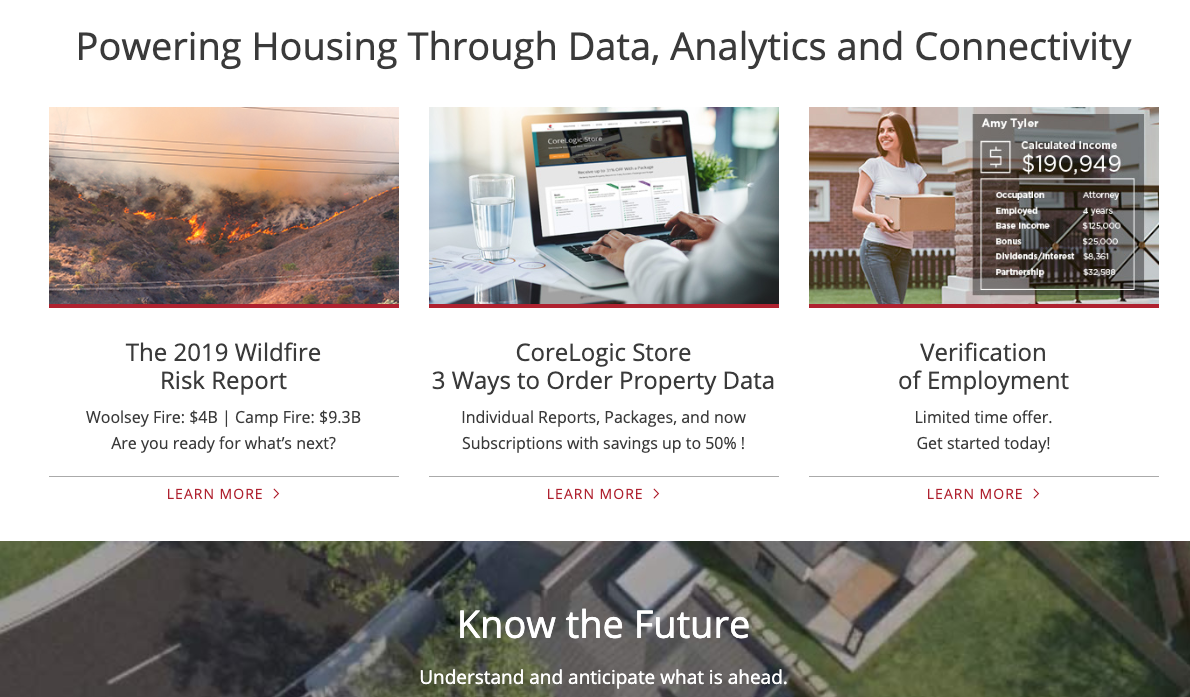 CoreLogic is a provider of commercial property data, analytics, and services to businesses and governments. The company leverages public, contributory, and proprietary data to develop predictive decision analytics and provide services to commercial real estate and other industries.
The CoreLogic comp component is called RealQuest®, and it provides property reports, MLS data, property valuations, transaction histories, and more. CoreLogic platform claims to contain historical data on 740 million real estate transactions overall.
Free or paid
Users have an option to purchase individual sales comparable reports. There is a range of paid subscription packages available too.
What makes CoreLogic stand out?

Large database and long history in the industry

Easy to use platform, wide range of payment options

A well-known brand in the CRE data industry

Limitations
Corelogic contains sales records rather than comps. CoreLogic simply collects sales records from the public record and resells the information. It does not contain non-public information on sales such as cap rates and net income. Additionally, CoreLogic does not cover commercial lease comps.
9. REIS — Powered by Moody's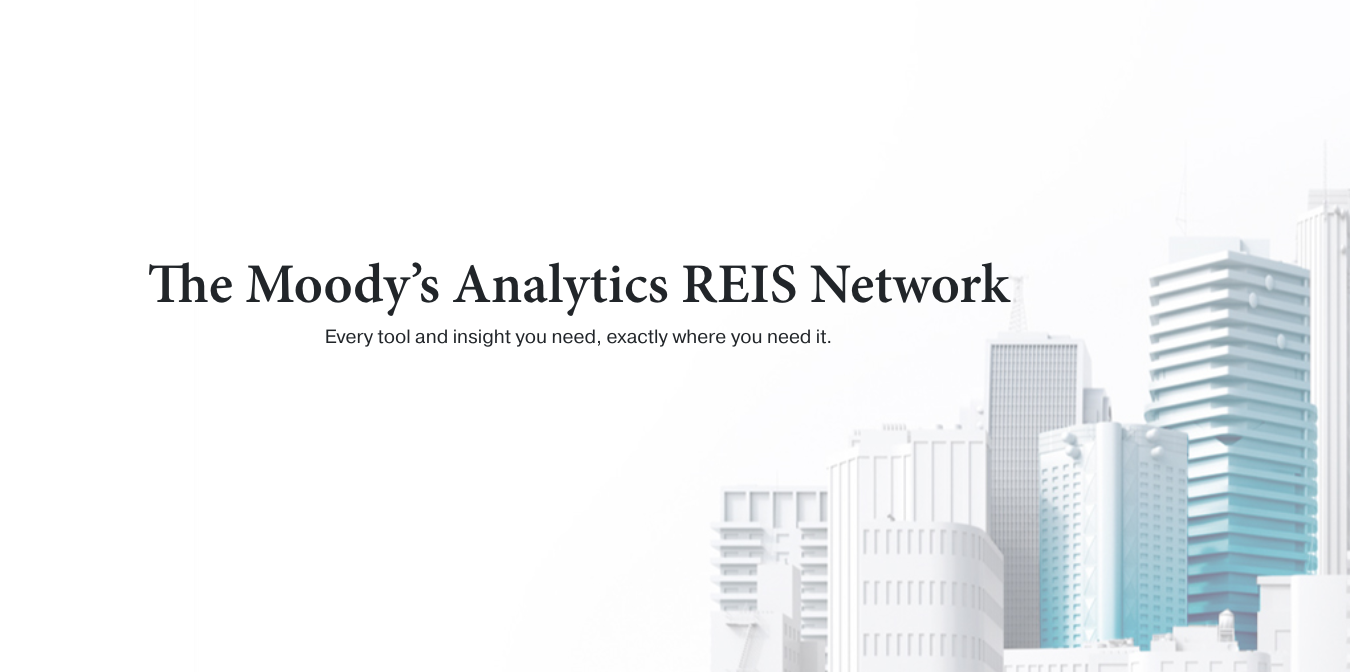 REIS is now owned by Moody's Analytics and is among the largest commercial property databases in the U.S. Reis provides sophisticated tools to improve workflows and gain insight into all major US commercial real estate markets.
The REIS in-house research team collects information and generates transaction profiles, including price, closing date, buyer, seller, cap rates, and financing terms. Sales comps are updated daily. Lease rates, vacancies, and concession, and operating expenses are provided at the property level (not the individual deal in the property.)
Free or paid?
Reis services and solutions come with a fee.
What makes REIS stand out?

Trusted source in the CRE industry

Covers 200 metropolitan areas and 2,500 submarkets

Offers webinars and in-depth industry reports

Limitations
REIS does not provide deal by deal lease comps, but rather a range of rents and statistics for properties or submarkets, collected using a survey method.
10. Digital Map Products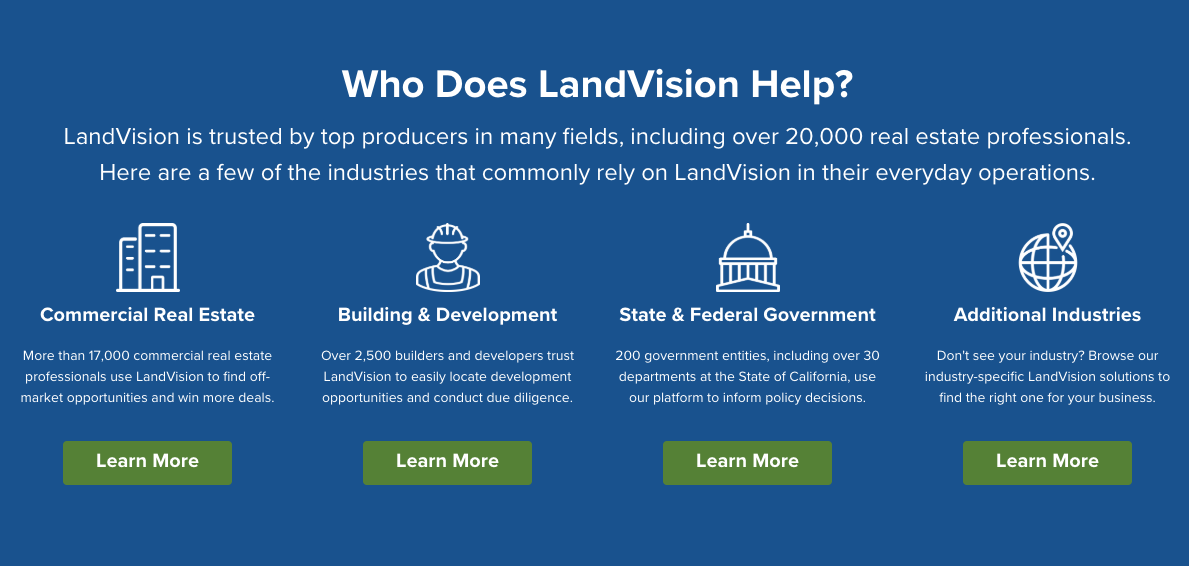 The DMP LandVision application provides CRE professionals with a map-based property research, analysis, management, and presentation platform. This solution uses a nationwide parcel database that captures property and tax attributes to parcel boundaries in addition to other map-based content.
Free or paid?
The DMP LandVision app is only available with a paid subscription.
What makes Digital Map Products stand out?

Advanced interactive mapping technology

Can overlay various data (demographics, traffic, school zones)

Searchable by parameters

Limitations
The DMP LandVision app is costly. Additionally, it's not entirely clear where DMP curates its data which could affect accuracy.

11. Industry Publications
In certain markets, you can find comprehensive data through industry publications. For example, The Real Deal in New York features the Deal Sheet which allows for CREs and other stakeholders to post real estate deal details.
Free or paid?
The Real Deal's Deal Sheet is free and available online.
What makes industry publications stand out?

Reporters commonly fact check deals. If asking rent or a broker info is listed, these details are probably reliable.


Free, online



Limitations
Not every US market is covered by a news publication that regularly publishes deal information. These are more common in the large markets, such as NYC, Los Angeles, and Chicago. In addition, news stories about commercial transactions often leave out important financial information, such as starting rent, lease term, landlord concessions, and cap rates.
Related Posts
Top 7 Commercial Real Estate Valuation Methods
Top 7 Commercial Real Estate Valuation Methods
Commercial Real Estate Software to Improve Business Performance
Commercial Real Estate Software to Improve Business Performance
Impacts of Rising Interest Rates and Inflation on CRE
Impacts of Rising Interest Rates and Inflation on CRE