Wondering about how to find a commercial property owner? Sometimes the search for the actual identity of a CRE property owner can be challenging. In many cases, the only information you obtain is a corporate LLC or holding company name.
Successful CRE brokers, investors, and businesses know that developing a relationship with a commercial property owner can make or break a deal. Getting up-to-date and accurate contact information about CRE owners is critical. A phone number, email, mailing address, or social media account gives you a distinct advantage when targeting property owners.
Here are some of the best resources available for correctly identifying commercial real estate owners.
Top 10 Resources to Find A Commercial Property Owner
1. CompStak
2. CoStar
3. ProspectNow
4. Reonomy
5. Real Capital Analytics
6. PropertyShark
7. PropertyRadar
8. LandVision
9. Moody's CRE
10. Public Records
CompStak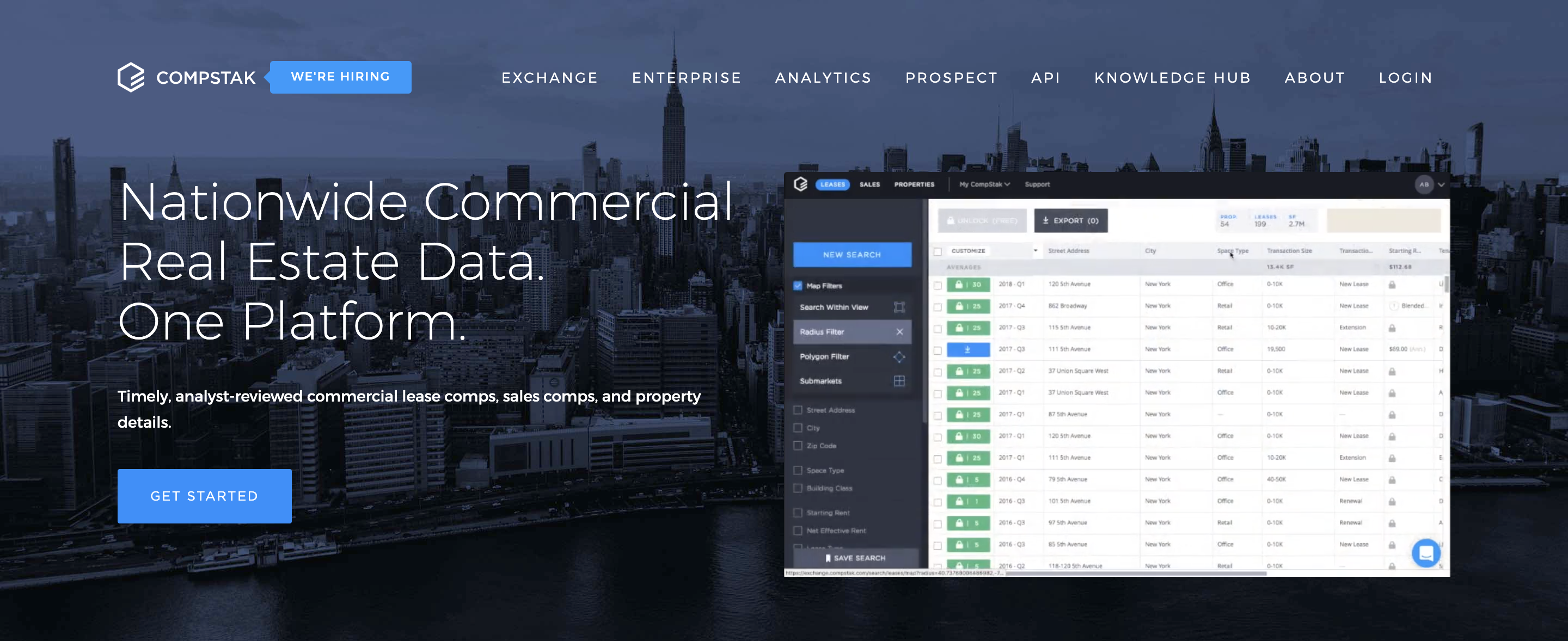 CompStak is the CRE industry's leading crowdsourced, machine learning-powered comps database. CompStak incorporates multiple levels of data verification which is critical for any commercial property owner search.
The following factors contribute to CompStak's high level of data integrity:
Comps are only accepted from verified commercial real estate brokerages or appraisers.

Data scientists review comps data to boost accuracy.

Users are incentivized to update and correct data.

Machine learning detects, compares, and verifies different versions of the same comp.
This multi-layer verification process significantly increases data accuracy and data value. And a key piece of this data includes buyer and seller identities.
CompStak also gives CRE professionals access to commercial lease comps data which is difficult to find elsewhere. Lease comps let you know how much commercial tenants are actually willing to pay to lease a property. However, lease comps are not a matter of public record, and, therefore, neither is the tenant data.
CompStak offers not only the address, property type, and rental rate, but also the tenant name, the size of the space, and lease dates. The data may also include information such as landlord concessions and expiration dates.
CompStak also lets you find properties that are similar to your subject property ("competitive set"). You can compare data such as average rent, location, building class, building size, and other parameters. The public record and internal databases can't do this and neither can most online services. Finally, CompStak data includes both non-disclosure and disclosure state data.
How to Find Commercial Property Owner Information on CompStak
The CompStak platform is intuitive and easy to use. To find commercial real estate owner information, it only takes a few clicks:
Step 1: From the main menu, choose Sales.
Step 2: Locate your area on the map and then click the Refine Sales button.
Step 3: Click on the property street address.
Step 4: Review in-depth property data, including owner information.
You can follow the same steps for Leases and get detailed tenant data as well.
CoStar

CoStar is a leading provider of commercial real estate information, analytics, and marketing services, as well as CRE owner data. CoStar conducts ongoing research to produce and maintain one of the largest databases of commercial real estate information. The platform also offers data analytics for added insight into commercial property opportunities.
The CoStar property database includes assets in the US, Canada, and the UK. The CoStar platform has a comprehensive list of property attributes, tenants, availability, comps, and owner information. While one of the more expensive options listed here, CoStar is used by many CRE professionals daily. Costar is also a source of CRE news and dealmaking.
ProspectNow
ProspectNow uses predictive analytics to identify targeted audiences to deliver advanced digital marketing for commercial real estate.
ProspectNow allows you to identify owners whose properties are expected to sell and/or refinance in the next 12 months. From there, you can target these owners by displaying digital ads directly to them on any connected device.
The ProspectNow hyper-targeted approach to marketing improves marketing efficiency and engages you with your targets earlier in their decision process. The whole thrust behind this platform is to identify those owners who are most likely to be looking to make a deal.
Reonomy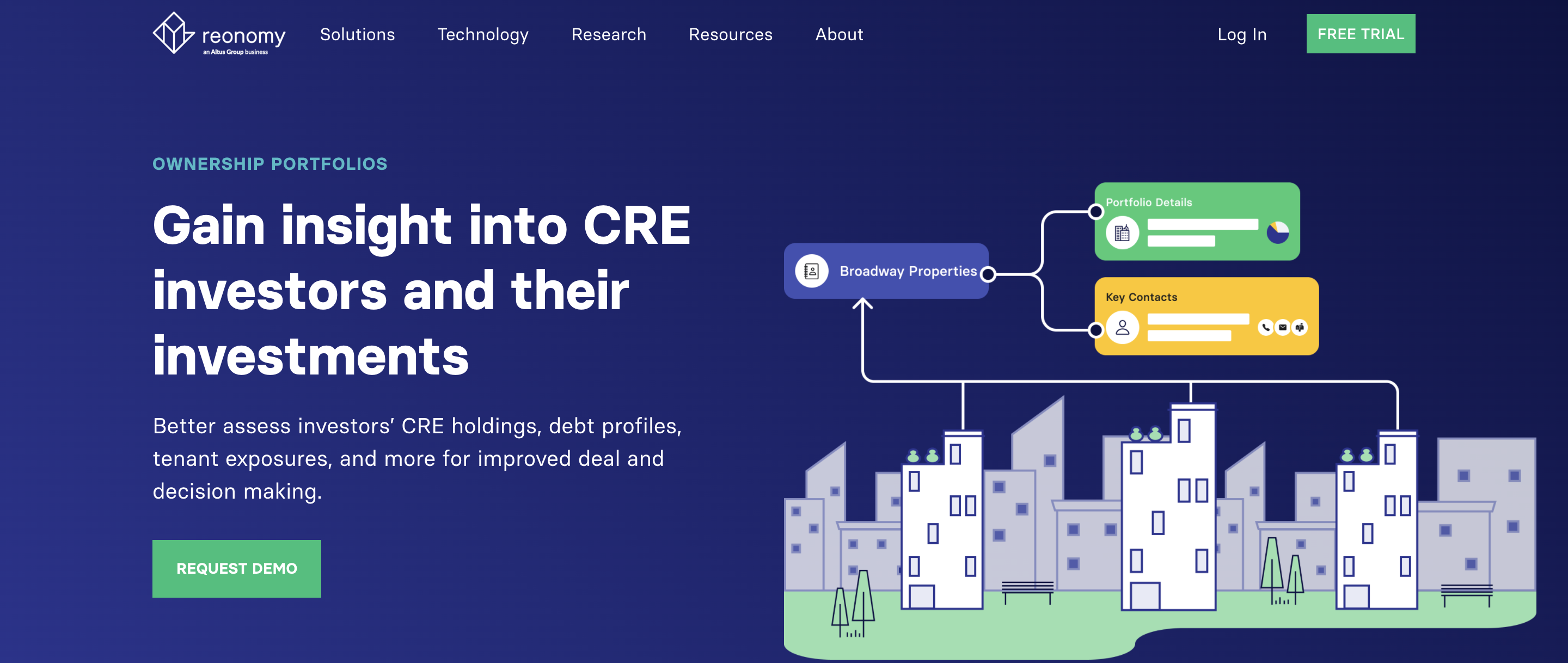 Reonomy is a leading provider of CRE insights, empowering top brokerages, financial institutions, and commercial services providers with actionable commercial real estate data. Reonomy helps commercial real estate professionals and investors find owner information, such as the owner's name, phone number, mailing address, and email address.
The Reonomy database enables you to search more than 50 million property records and use over 200 filters to sort the targeted information you need. The platform's Ownership Portfolios provide users with an in-depth understanding of all assets owned by a single individual or company, including asset mix, location, debt profile, and tenant mix of portfolios.
Real Capital Analytics


Real Capital Analytics (RCA) provides an extensive record of CRE transactions, developments, property sales, recapitalizations, and refinancings. RCA is headquartered in New York City with offices in San Jose, London, Singapore, and Sydney. The platform offers micro (locality) and macro (country) market views.
RCA covers sales transactions in real-time, including closed and pending deals with hands-on feedback from brokers, investors, and other data partners. RCA team members then conduct a data science assisted evaluation focused on market pricing, capital flow, and investments.
RCA not only provides information about commercial property owners, but also provides research to identify the principals and joint partners involved in each transaction. The platform also tracks the other players involved, including brokers, lenders, and originators.
PropertyShark

PropertyShark is a real estate listing provider for US commercial and residential properties. The site is used by CRE professionals, investors, and home buyers. While PropertyShark provides a wide range of real estate opportunities, the platform places a heavy emphasis on foreclosures.
The PropertyShark geographic reach is nationwide, and it lists several major metropolitan hubs where the platform provides data. PropertyShark provides high-quality property reports for both the commercial and residential sectors. Users of PropertyShark can determine when a property was developed, who owns it, its exact characteristics, up-to-date sales history, property value estimates, and information about current zoning and air rights.
PropertyRadar

PropertyRadar is a national property data and owner information platform used by real estate professionals and property-centric businesses. PropertyRadar helps CRE professionals to discover opportunities within enhanced public records data.
PropertyRadar provides digital tools for data-driven marketing, sales, and property research. The platform's mobile apps offer unique in-the-field solutions. PropertyRadar can also integrate with 2,000+ apps and services to quickly access data and automate outreach, tasks, and workflows.
To identify potential properties, you can access over 200 criteria to target owners of commercial properties that match a buyer's interests. PropertyRadar provides geographic, life events, distressed properties, motivated sellers, and other targeted listings. The owner's contact data can include a phone number, email, and social media.
LandVision
LandVision is a map-based real estate application that provides real estate, government, and other industries with comprehensive map-based property research, analysis, management, and presentation capabilities. The LandVision nationwide parcel database ties 300+ property and tax attributes to parcel boundaries, in addition to other map-ready content.
LandVision enables users to search for parcels by property type, land use, building square footage, assessed value, and ownership. The platform also allows you to overlay demographics, points of interest, traffic data, school attendance zones and rankings, and hazard data. The LandVision interface also identifies if a property is located in an opportunity zone.
Moody's Analytics CRE

Moody's Analytics CRE is a CRE software solution that provides expansive data and analytical expertise from across Moody's organization. Moody's delivers integrated analyses of commercial real estate market metrics for enhanced decision-making.
Moody's streamlines access to information on commercially zoned property throughout the US. The platform's comprehensive dataset of commercial properties offers granular visibility into the commercial real estate landscape including asking and effective rent, vacancy rate, property size, asset class, and owner information. Moody's CRE data is monitored and updated on a real-time basis.
Public Records

For buyers, investors, appraisers, and brokers interested in a specific property, public records can be a source of commercial real estate owner information. Typically, public records give you a high level of data accuracy. However, even the public record might be filled out incorrectly.
Public records can be accessed online or in person. Information such as sales deeds and debt information can help gauge the financial standing of a property owner. CRE professionals may need to consult the public record in specific circumstances, but this method isn't useful for evaluating multiple properties across many counties.
While the public record may have the commercial real estate owner data, it may also list a corporation, LLC, or holding company as the owner.
Conclusion
When searching for commercial property owner information, there is a wide range of resources available online. Each one has its advantages, and some may be used in combination. Either way, it pays to make direct contact with the commercial property owner to facilitate deal making.
Related Posts
REIT It and Weep: CRE's Big Bet on Data and Analytics with Jon Petersen — Episode 2 Recap
REIT It and Weep: CRE's Big Bet on Data and Analytics with Jon Petersen — Episode 2 Recap
Will Rising Interest Rates Freeze The Multifamily Sector?
Will Rising Interest Rates Freeze The Multifamily Sector?
Introduction to Cap Rates With Surprising Examples
Introduction to Cap Rates With Surprising Examples