What if you could combine the most accurate office, retail, and industrial data with multifamily data insights all within one platform? Well now you finally can! Since the founding of CompStak 10 years ago, we have collected over 5 million lease and sale comp data for over a million properties across the United States and realized our mission to deliver the most up-to-date and detailed CRE data to our members and clients. We are thrilled to announce our most recent addition to our data platform, the launch of multifamily data via our new RealPage integration.
RealPage is a leading global provider of software and data analytics to the real estate industry. By combining data sourced from surveys and transaction records, RealPage provides a best-in-class detailed view of what matters in residential real estate, including unit mix, floorplan pricing, and occupancy. RealPage is able to provide effective rents and concessions for a more accurate property value analysis.
---
Overview
This launch marks the extension of CompStak's data reach into multifamily properties with RealPage's best-in-class multifamily information. Incorporating RealPage's multifamily lease data will enable CompStak to provide a comprehensive single-source solution for valuations of multifamily and mixed-use assets in addition to our industry-leading commercial lease data.
With this integration, CompStak users no longer need to use multiple platforms to evaluate the commercial and residential components of projects separately. Instead, users will now be able to use one platform to understand and evaluate complex multi-property class assets like mixed-use developments, retail-residential complexes, and more. Whether you are looking to estimate foot traffic for a retail space in a mixed-use plaza or evaluate the merits of an office space to residential conversion, with this integration CompStak is your one-stop solution.
What's in it for you?
Our new comprehensive data provides a single, integrated solution that enables you to:
Perform cross-asset portfolio performance and benchmarking assessments
Create detailed acquisition and underwriting models combining RealPage multifamily data and CompStak lease and sale comps
Get the complete financial picture for mixed use properties, such as multifamily buildings with ground-floor retail or office space
Explore relationships between different asset classes to understand the dynamics among multifamily, office, industrial, and retail property types
Utilize RealPage leasing data in conjunction with CompStak's sale comps
Adding RealPage data to CompStak will allow you to access new multifamily attributes including:
Unit Mix

Bed/Bath Configuration

Floor Plan Pricing

Square Footage

Construction Status

Expected Leasing Date

Asking Rents

Effective rents

Concession rates

Occupancy rates
In this new multifamily release, you will now have access to three new property data features:
1. Updated Overview on Property Pages
The property overview pages that include multifamily or mixed use properties will now include multifamily-specific fields. Users can look forward to an upgraded property page experience providing rapid, intuitive access to data points including Revenue Management, Survey Date, Total Units, Market Rate Units, Average Unit Size, Unit Mix Type, Building Style, and Gross Living Area. This information will allow users to gain insights into the residential components of a building and quickly determine if the building is comparable.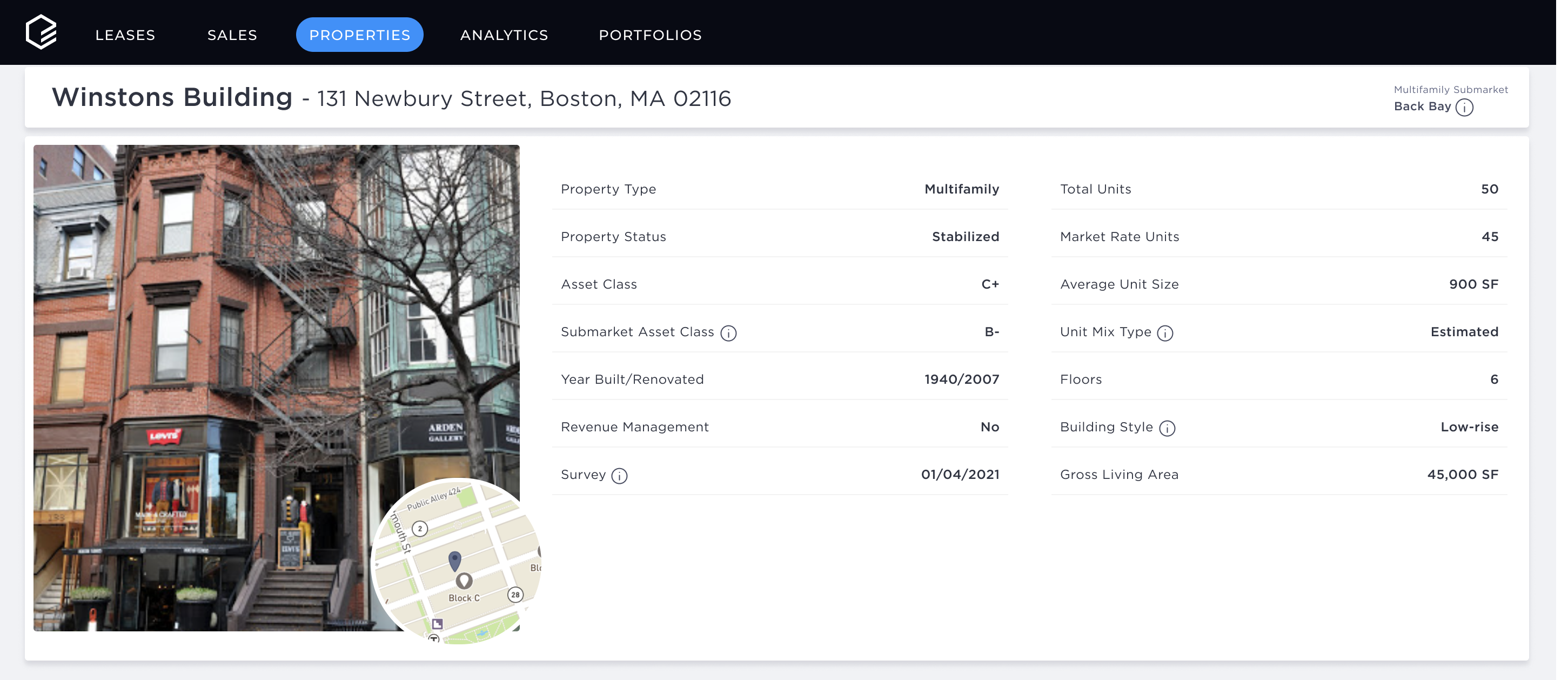 2. Unit Mix and Floorplan Data with Concessions
Uncover more granular information on vital property's metrics, number of units, and floorplan pricing. Unit mix and floorplan data are essential tools for estimating multifamily revenue streams, forecasting unit turnover, and balancing commercial activities.
Most importantly, this feature contains concession information, the difference between asking rent and effective rent, and occupancy rates. Combined with CompStak's existing office, retail, and industrial analytics capacities, users will have a better than ever capacity to forecast and adapt to market trends in real time.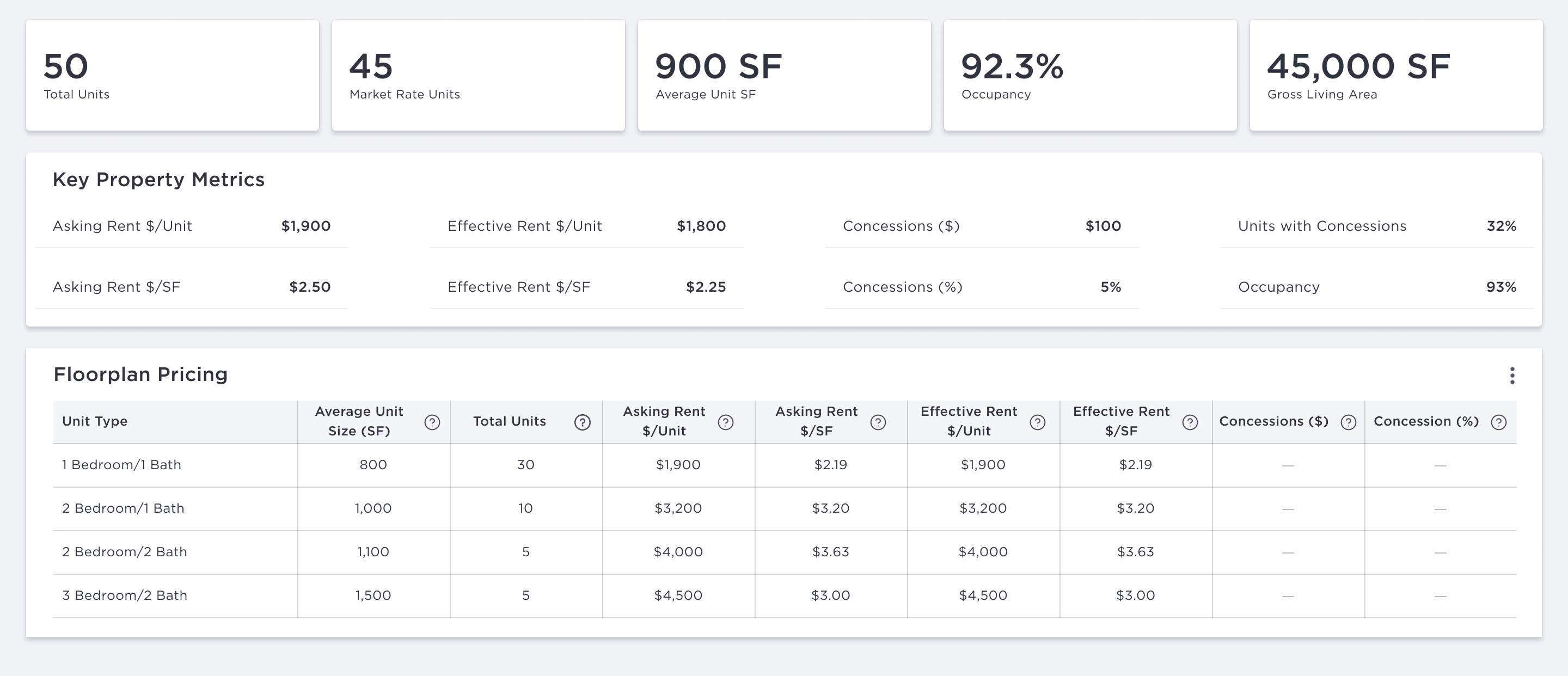 3. Upgraded Competitive Sets
The competitive set view for multifamily and mixed use properties will feature granular details to allow more precise and targeted analytics. This feature will include asking rent ($/SF), net effective rent ($/SF), and a total number of units. With this functionality, users can determine the strength of the market and a particular property, tenant and landlord negotiating power, and build forecasting models for future market dynamics.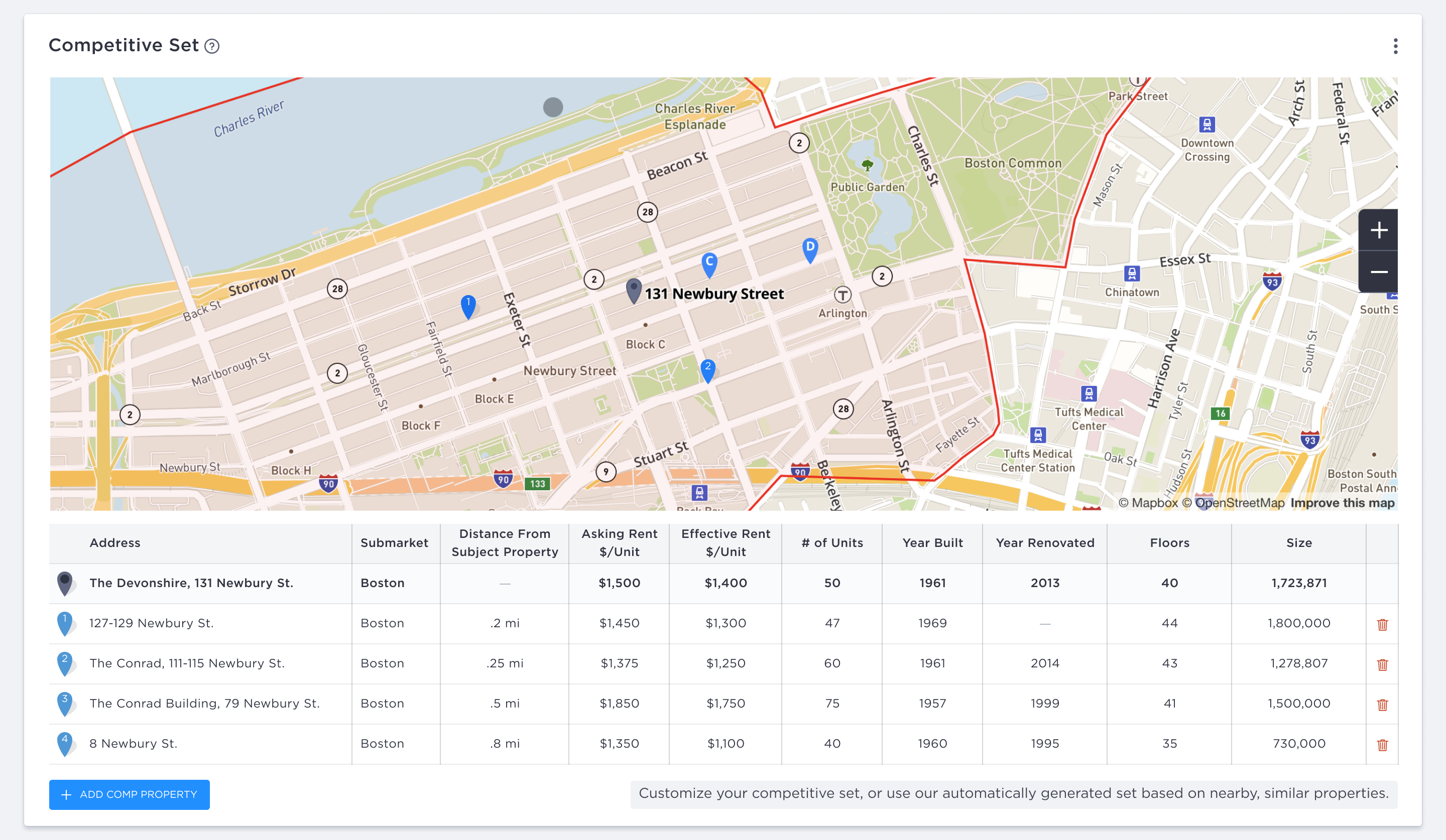 We are thrilled to bring more value and functionality to our users with this integration and allow them to close better real estate deals! To learn more about CompStak's new multifamily capabilities, Request a Demo with one of our reps!
Related Posts
MARKET INTEL: Downtown and Suburban Retail: Comparing Performance Across Ten Metros
MARKET INTEL: Downtown and Suburban Retail: Comparing Performance Across Ten Metros
How the Supply Chain Crisis Impacts Industrial Real Estate
How the Supply Chain Crisis Impacts Industrial Real Estate
The Ultimate Guide to Concession Data Available on CompStak
The Ultimate Guide to Concession Data Available on CompStak