**This research piece is created with CompStak's exclusive data
Since the recent leaked SCOTUS draft opinion reversing Roe v. Wade, stories discussing the impact on everything from women's health to future election outcomes to economic growth have dominated the news. How would a potential abortion ban affect real estate markets and corporate location decisions and what can CompStak's data tell us about its potential market impact?
Which states' legislation would be most impacted by a reversal of Roe v. Wade?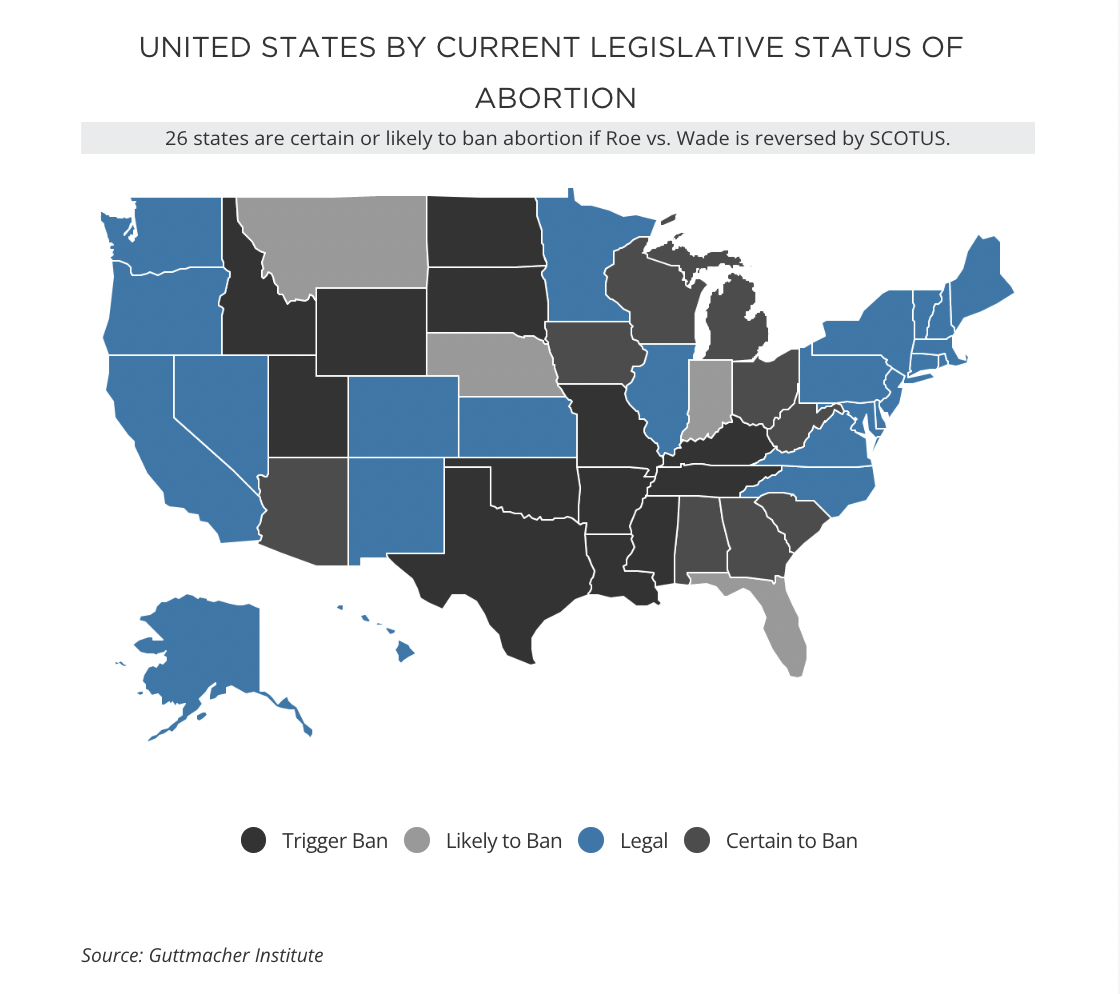 According to the Guttmacher Institute, a total of 26 states will immediately or likely ban abortion if Roe v. Wade is overturned by the Supreme Court. Twenty-two states have pre-Roe bans on the books that were never removed, trigger bans, or other types of current bans or restrictions that make it nearly certain abortion will become quickly or immediately illegal if Roe v. Wade is overturned. Another four states – Florida, Indiana, Nebraska and Montana – are likely to subsequently ban abortion based on current political and legislative climates. Overall, an abortion ban in 26 total states would impact 40 million women of reproductive age, according to the Guttmacher Institute. Currently, more than 25% of the nation's abortion providers are in these 26 states at ban risk. States with legally protected abortion, especially those within driving distance of ban states, will likely experience an uptick in demand for women's reproductive health services, medical facilities, and associated infrastructure.
Impact on Employment and Population Growth
Many of the states at risk of an immediate ban are in the Southern United States and include many of the Sunbelt markets that have experienced strong population growth, an influx of corporate relocations, and job growth in recent years, especially as the pandemic accelerated migration to these areas.
Notably, 16 of the top 20 metropolitan statistical areas (MSAs) for absolute growth in residential population from April 2020 to July 2021 are in states at risk of a total ban, including Texas, Arizona, Georgia, and Florida.
They include metro areas like Dallas-Fort Worth, which grew by more than 122,000 residents or by 1.6%, or Austin, which expanded by 69,000 or 3.0%, outpacing the 0.1% growth rate experienced nationwide.
Similarly, 8 of the top 20 metropolitan statistical areas (MSAs) for job growth in office-using industries, including Information, Financial Activities, and Professional Services, over the past year are also in ban-risk states.
Dallas-Fort Worth and Austin also topped the list for expansion in office-using employment, as did rising office markets in other ban risk states like Nashville and Atlanta.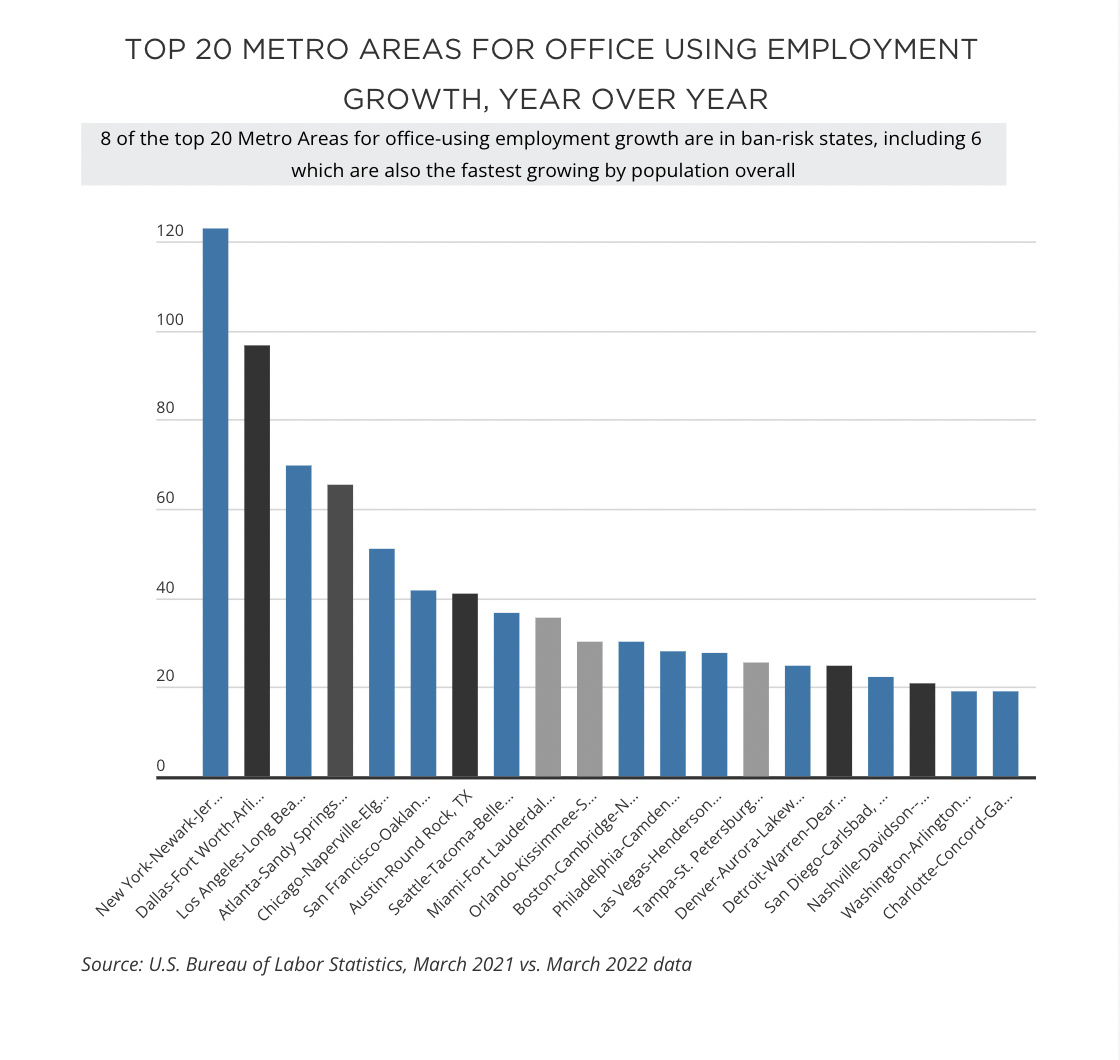 Top States for Both Population and Job Growth Are in Ban Risk States
Notably, six of the eight MSAs that appear on both lists for top job and population growth are in ban risk states. Another, metro area, Charlotte-Concord-Gastonia, overlaps both North Carolina, where abortion is legal, and South Carolina, where abortion is certain to be made illegal upon a SCOTUS reversal. These six MSAs are:
Dallas-Fort Worth-Arlington, Texas
Atlanta-Sandy Springs-Roswell, Georgia
Austin-Round Rock, Texas
Tampa-St. Petersburg-Clearwater, Florida
Nashville-Davidson–Murfreesboro–Franklin, Tennessee
Orlando-Kissimmee-Sanford, Florida
These MSAs have attracted major corporate office tenants since the pandemic began and several experienced office rent growth outpacing other major markets. Since March 2020, marquee tenants like TikTok, Meta, Microsoft, and Pfizer have all signed deals to open or expand in ban risk states, according to CompStak's data.
In addition, the primary office markets in these metro areas have all experienced an improvement in starting rents through the pandemic and surpassed their starting rent averages in March 2020, according to CompStak's data.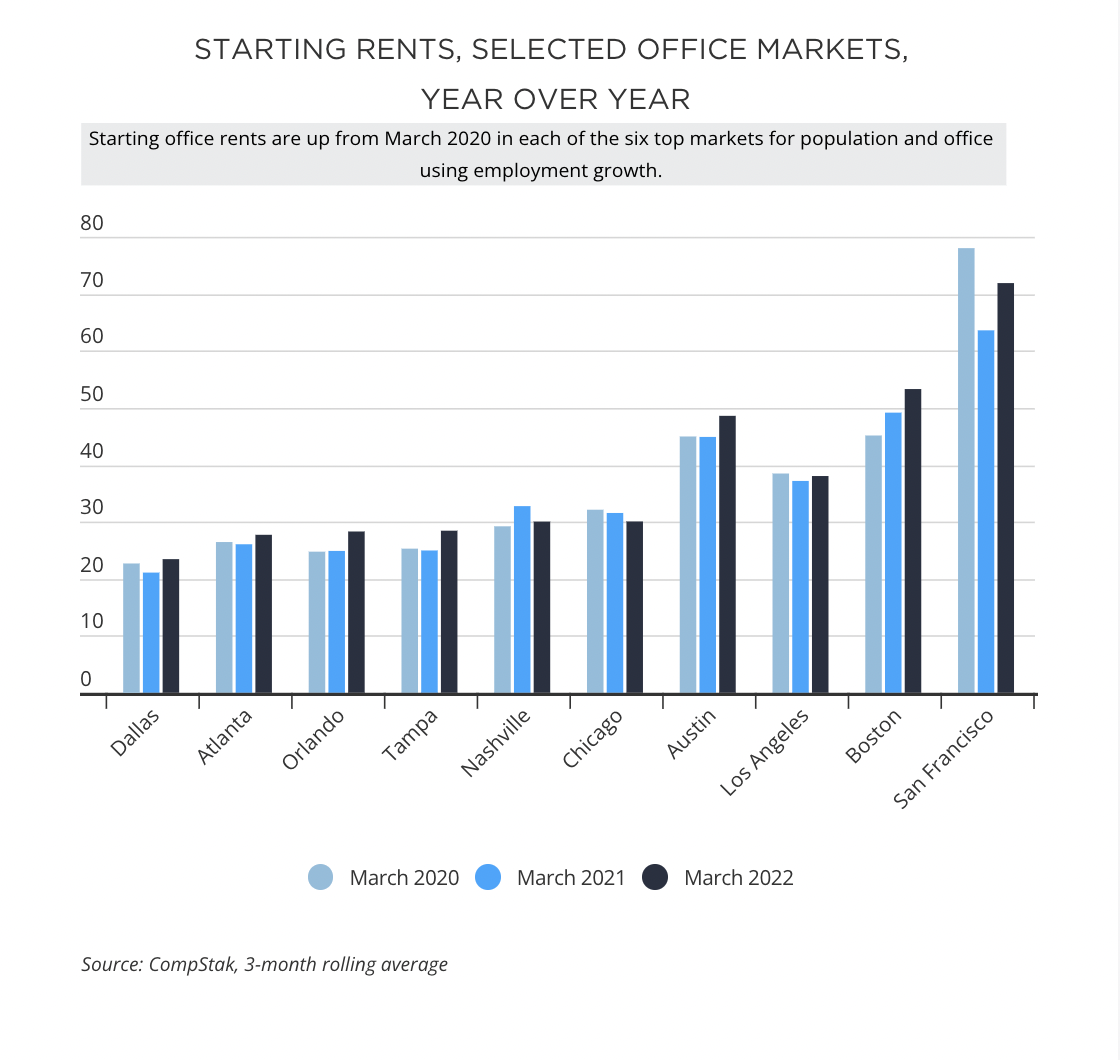 How are major U.S. companies and employers reacting to the potential of a Roe v. Wade reversal and its impact on their employees and offices in ban-risk states?
A growing list of companies are responding to this potential ban with announcements to make additional reproductive health benefits available and commitments to cover travel out of state for healthcare for affected employees living in a ban state. These companies include major office occupiers: Amazon, Yelp, Match.com, Lyft, Uber, Citigroup, Salesforce, Levi's, Apple, GoDaddy, Amalgamated Bank, Gucci, HewlettPackard, Microsoft, Tesla and WPP. Although this is a short list of the thousands of major companies with offices and employees located in ban states, it is expected to grow.
According to CompStak data, 4.8% of the total footprint of the companies listed above is located in states where abortion will be immediately banned if Roe v. Wade is reversed. Another 4.4% is in states where abortion is certain or highly likely to be banned upon a reversal. While most of these companies' office space is located in states where there are laws that currently protect abortion, 9.2% of their total footprint could be affected. This analysis only evaluated office space — including associated retail and industrial space, especially from companies like Amazon and Apple, would likely raise the figure impacted by an abortion ban.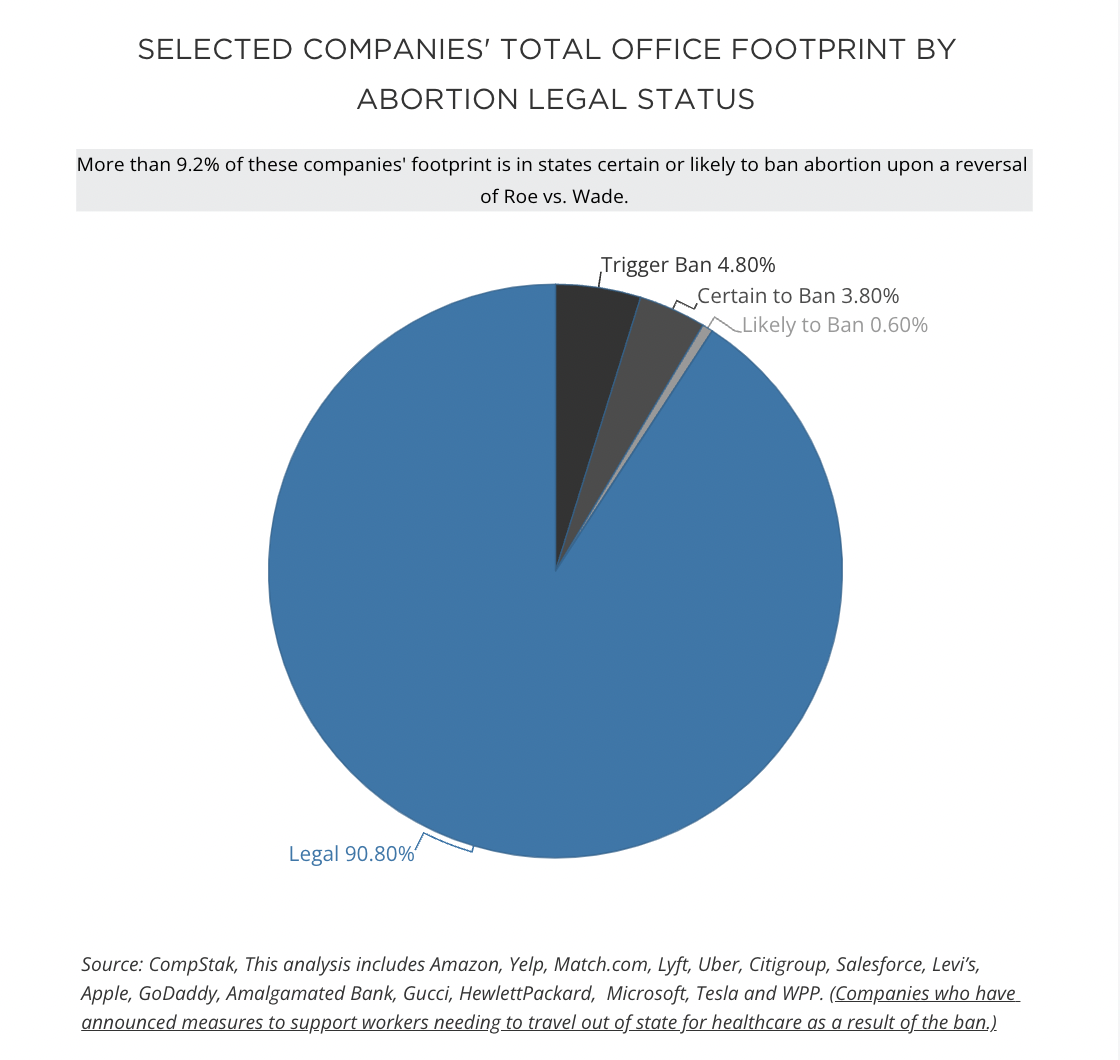 Increasingly, companies are being called to have an opinion on important political issues by their employees, customers and shareholders, especially when future political support or corporate profits could be on the line. In addition, the labor market remains tight—will companies need to take a position before employees commit to new positions and will a company's stated opinion impact future ability to hire?
It remains an open question – will a change to Roe v. Wade influence site selection by major companies or alter current economic growth trends ? Stay with CompStak to monitor corporate leasing and sales transactions and the performance of key office and residential markets across the United States.
Related Posts
Market Intel: Wayfair by the Wayside - What the the E-commerce Giant's Potential Demise Tells us about Industrial Real Estate
Market Intel: Wayfair by the Wayside - What the the E-commerce Giant's Potential Demise Tells us about Industrial Real Estate
MARKET INTEL: Breaking Down Prologis' Recent Chicago Expansion
MARKET INTEL: Breaking Down Prologis' Recent Chicago Expansion
Market Intel - The Sublease Surge and TAMI Tumult: Sublease Trends in Key Markets
Market Intel - The Sublease Surge and TAMI Tumult: Sublease Trends in Key Markets