LoopNet is a popular online resource for commercial real estate data. It first came online in 1995 and is now reported to have millions of registered users. If you're reading this article, you may already be one of those CRE professionals who uses LoopNet to get access to commercial property listings.
However, LoopNet might not be the ideal solution for everyone, and various alternatives are available depending on user priorities. For example, brokers and appraisers may be looking for lease and sales comps, or simply prefer better customer service. Meanwhile, some professionals might prefer to focus on off market deals.

CRE professionals may be looking for LoopNet alternative for better listing quality/accuracy or a broader set of property details. (Some have complained that information about their property was inaccurately displayed on the platform).
Related Article: Reonomy vs. CompStak: Pricing, Reviews & Features
Also, other commercial real estate platforms may offer features such as brand building and lead generation. Property sellers may also want more features than what LoopNet offers.
Others are bothered by calls from LoopNet representatives reminding them to keep their property profiles up to date. Lastly, the subscription cost has also driven certain CRE professionals to seek alternatives.
Here are the leading LoopNet alternatives based on different niches or performance characteristics.
Top Online Commercial Property Resources to Consider as LoopNet Alternatives:
1. CompStak
2. CREXi
3. Property Shark
4. RealMassive
5. QuantumListing
6. Ten-X
7. SharpLaunch
8. 42Floors
9. Truss
10. Brevitas
11. Public Records
Not sure what LoopNet is? Skip to the bottom for more information.
1. CompStak – The comp alternative
CompStak is a leading crowdsourced US commercial real estate data platform that provides lease and sales comparables – a service not provided by LoopNet. CompStak curates data from over 20 thousand professionals at commercial brokerage and appraisal firms.
One of the major strengths of CompStak is that the data available on CompStak is not available through any of the other services listed in this article. Commercial lease comparables, that is, the information about how much commercial tenants are paying in rent, is not a matter of public information. This information is usually traded in small, local groups of real estate professionals, and CompStak is the only data resource allowing CRE professionals who are not in those groups the ability to trade comps for comps.
Another advantage of CompStak is data reliability. CompStak only sources information from verified commercial real estate professionals and then dedicates an entire team of data scientists to provide the highest data integrity possible.
CompStak also allows you to drill down to important details (80+ comp details). More granular data enables CRE professionals to answer more questions and improve their level of service.
In addition, CompStak provides real estate market intelligence by aggregating millions of data points into powerful analytics, including market rent trends, property and submarket rent trends and even comparing individual properties' income performance.
Finally, for those who work in commercial brokerage and appraisal companies, CompStak access is absolutely free of charge. In fact, those types of CRE professionals are not allowed to buy data from CompStak — they simply trade the data they have to get the data they need, and they receive access to comps and property data across the entire United States. In an industry where many services are not priced competitively, CompStak's unique business model allows brokerage and appraisal firms to use a reliable, free service. CompStak's revenue comes from other types of commercial real estate firms, such as asset managers, banks, REITs, and other property investors.
CompStak takeaways:
Unique data set that cannot be found elsewhere (lease comps)
Data comes directly from the brokers and appraisers who are closest to the transactions
Free access for those who work in brokerage and appraisal, and paid access for everyone else
Highly accurate & relevant data on lease and sales comps
State of the art user-friendly interface
Provides granular detail (up to 80+ details on each comp)
Advanced mapping tools
Custom reports and robust analytics
Related Article: How To Find Relevant Commercial Real Estate Comps
2. CREXi – The listing alternative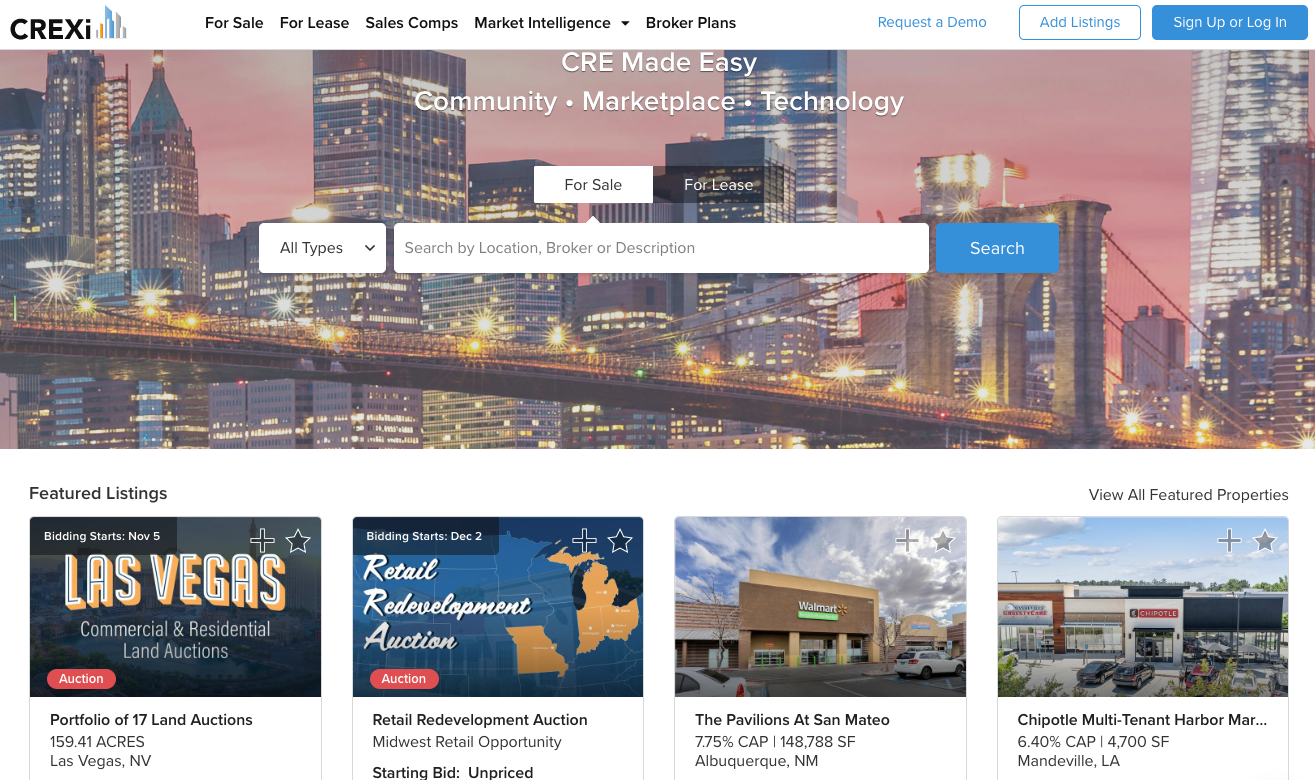 CREXi is a newer, popular online commercial real estate marketplace. The platform offers a suite of easy-to-use tools to manage the entire process from listing to closing. CREXi is available in 50 major US metropolitan areas from coast to coast. CREXi is well known for its hands-on customer service, and some users claim that this resource outperforms LoopNet in terms of attracting property interest.
Related Article: CREXI vs. CompStak: Pricing, Reviews & Features
The CREXi platform incorporates an active sales and leasing marketplace, with marketing, analytics, and deal management tools. The platform is designed to help brokers, buyers and tenants streamline processes, find properties, and close deals faster. Launched in 2016, CREXi has grown rapidly to become a highly active CRE marketplace with over $600 billion in property value listed.
CREXI's user interface is easy to use, and some compare it to social media platforms.
CREXi takeaways:
Smaller, up-and-coming LoopNet competitor
Excellent customer service
User friendly interface
Consolidates entire CRE processes
3. PropertyShark – The foreclosure alternative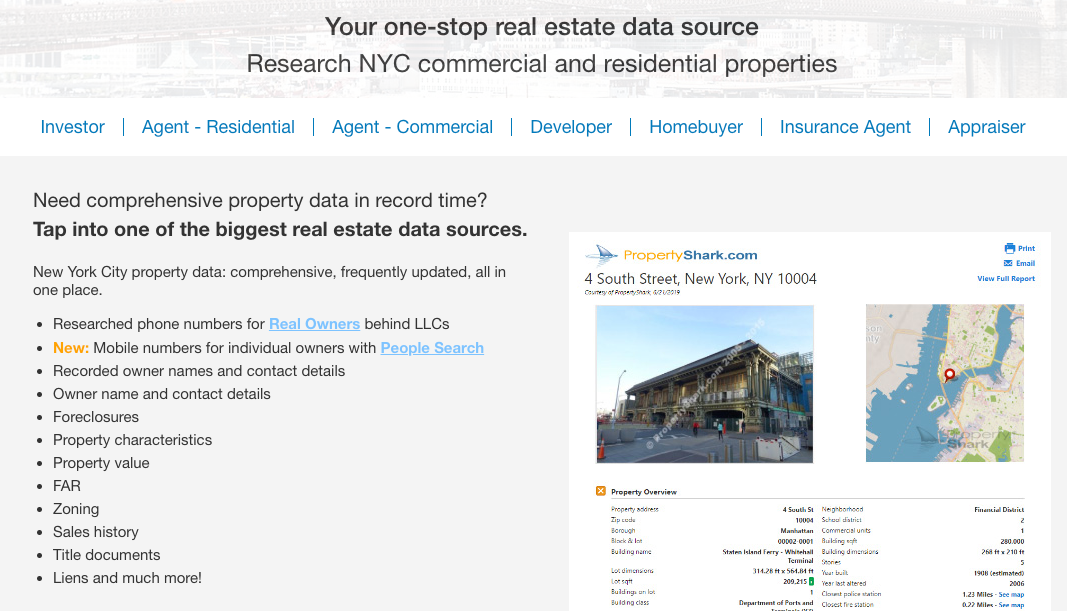 PropertyShark is a real estate listing provider for US commercial and residential properties. The site is not exclusive to CRE professionals as investors and home buyers also use PropertyShark. While the site caters to a wide range of real estate opportunities, PropertyShark places a heavy emphasis on property data and foreclosures.
The PropertyShark geographic reach is mostly nationwide, however, it appears to have better coverage in New York City, the San Francisco Bay Area, and Los Angeles areas.
In March 2010, investment and property management software company Yardi Systems acquired PropertyShark.com. Although recent updates to the platform have made it more user-friendly, some users have noted that the platform needs to provide more professional level features.
PropertyShark highlights:
Commercial and residential property listing database
Heavy emphasis on pre-foreclosures and foreclosures
Designed for real estate professionals, investors, and homebuyers
User friendly, but may be limited for some professionals
4. RealMassive – CRE brand building alternative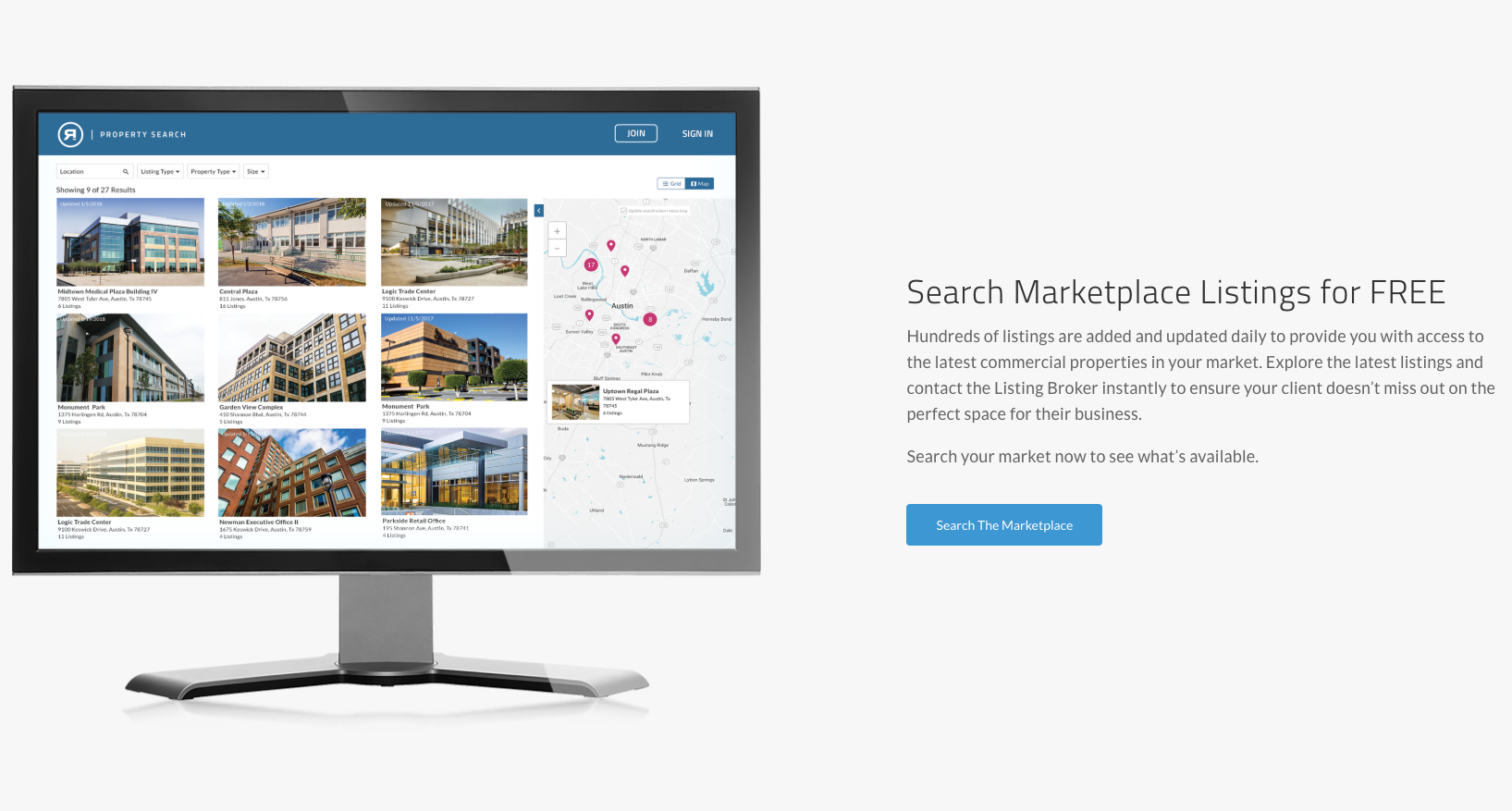 RealMassive is a commercial property listing platform that currently focuses on markets in Austin, Los Angeles, Atlanta, Oklahoma City, and Phoenix. By gathering data from over 3,000 brokerages across the US, RealMassive curates over 90 unique data points for each listing. The platform has plans to expand its coverage to additional markets.
What really separates this resource apart from LoopNet is the RealMassive website integration solutions. By using GIS software tools, local listings can be integrated automatically on a broker's website. This saves time/resources and offers a distinct advantage as the prompt availability of listings is critical. RealMassive also provides listing optimization with specialized tools and promotions.
RealMassive offers advanced analytics to help determine prices based on geographic location and property characteristics.
RealMassive takeaways:
Website integration helps build CRE brand strength
Somewhat limited in geographic scope
Listing optimization tools
Market analytics keeps listing current
5. QuantumListing – The no paywall alternative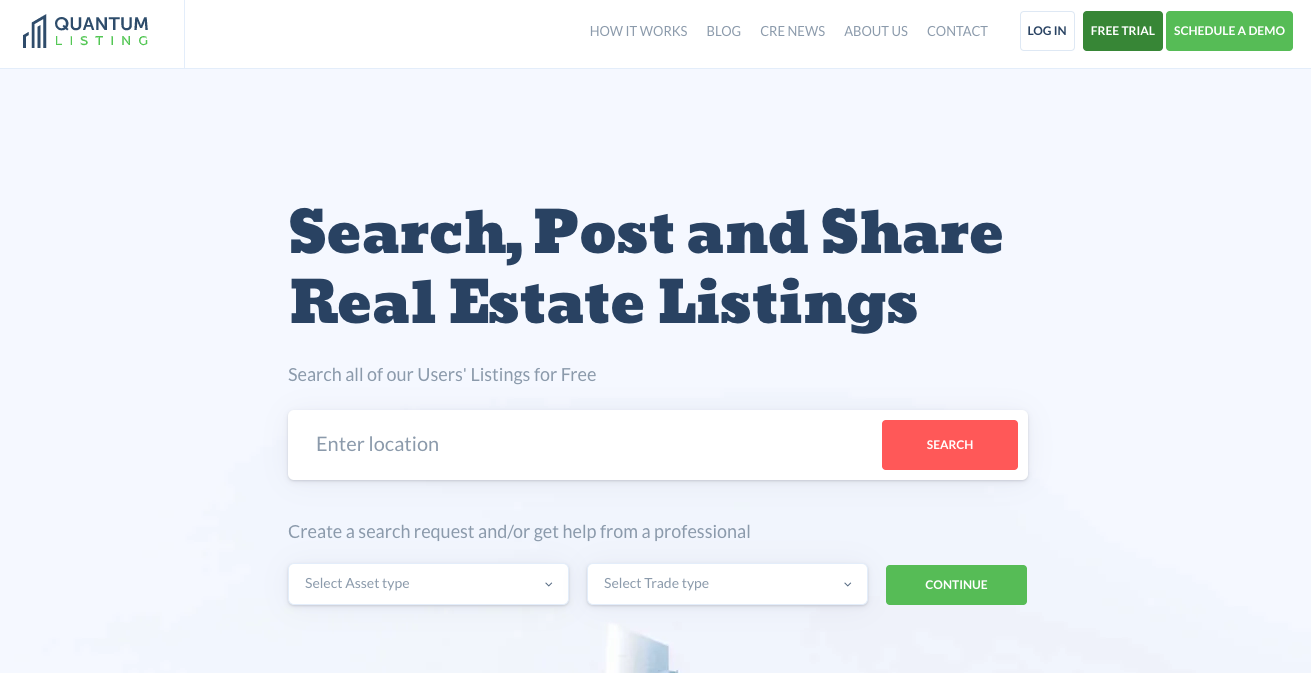 QuantumListing is a crowd-sourced real estate listing platform for commercial real estate agents, owners, and tenants. Unlike LoopNet, QuantumListing does not hide any listings behind a paywall. All listings are searchable and viewable to anyone. For a fixed price, brokers and owners can post an unlimited number of listings. The cost is $79.99 per agent.
Another distinguishing feature of QuantumListing is that it integrates with the CRE professional's social media. Also, the platform's LinkedIn, Twitter, and Facebook accounts display listings to expand reach even further. They even have a social media-like Groups feature that allows users to join and follow interest groups.
On QuantumListing, all for sale listings feature an online loan checker button, which connects to the StackSource portfolio of lenders to seek financing partners. Also, customers of Buildout and SharpLaunch can syndicate listings to QuantumListing which saves users from double data entry.
QuantumListing takeaways:
No paywall to see all listings
Integrated with social media accounts
Quick financing consultation device
Syndicated listing potential
6. Ten-X – Online transaction alternative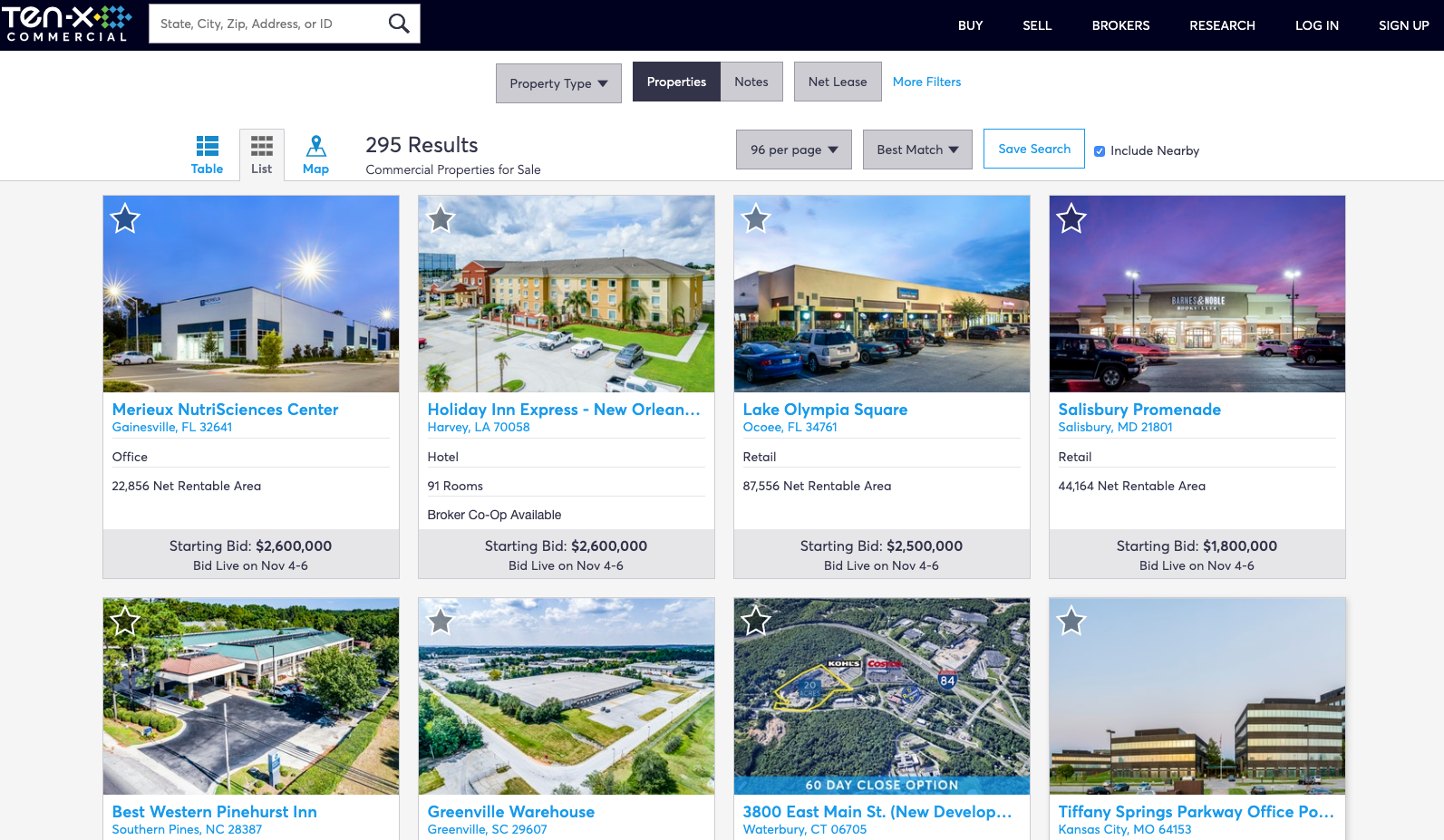 Ten-X is an online transaction platform for commercial real estate where users find opportunities that match specific goals and asset types like office, multi-family, retail, hotel, industrial, self-storage, land, and special purpose. Ten-X property listings are verified, and all buyers are vetted before the sales process begins. The platform's strength is transparent, streamlined, secure online transactions for commercial property sales/purchase.
Ten-X charges a transaction fee, which is the greater of a percentage of the winning buyer's offer or a minimum set fee. The Ten-X website states that they have 400K qualified investors, and 96% of sales close within 90 days.
Ten-X data-driven platform also offers predictive modeling to calculate the chance of successful trading on the platform for any given property.
Ten-X takeaways:
End-to-end transaction platform
Pre-qualified properties/pre-vetted buyers
Proven track record and niche dominance
Powerful data models
7. SharpLaunch – The marketing alternative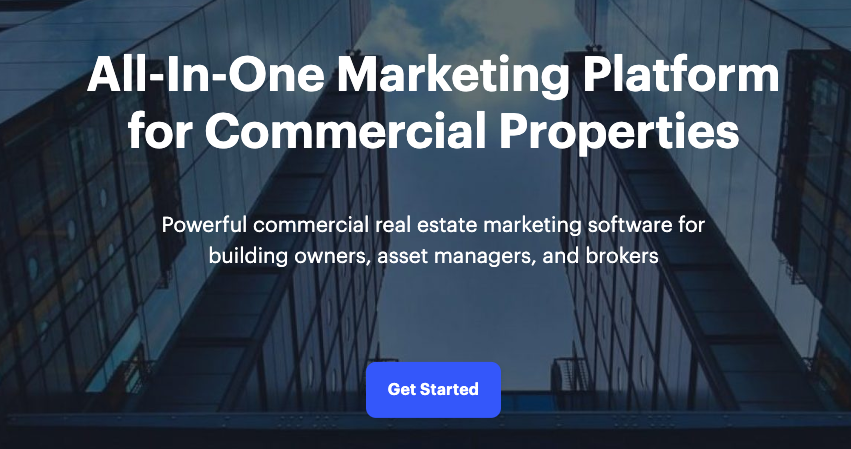 SharpLaunch is a CRE digital platform that helps owners, brokers and asset managers to optimize their online presence. By streamlining marketing, administration, and property visibility, SharpLaunch puts time back in the hands of CRE professionals. It all happens from an easy-to-use dashboard.
SharpLaunch provides a suite of tools like property websites, lead management, marketing analytics, document portals, online confidentiality agreements, and email marketing.
Users describe SharpLauch as a utilitarian and user-friendly LoopNet alternative. Interactive maps, built-in search engine, and insightful reporting round out this high-quality CRE marketing platform.
SharpLaunch takeaways:
All-in-one suite of CRE marketing tools
Easy-to-navigate
Can invite external users for wider reach
Somewhat limited in customizability
8. 42Floors – The search engine alternative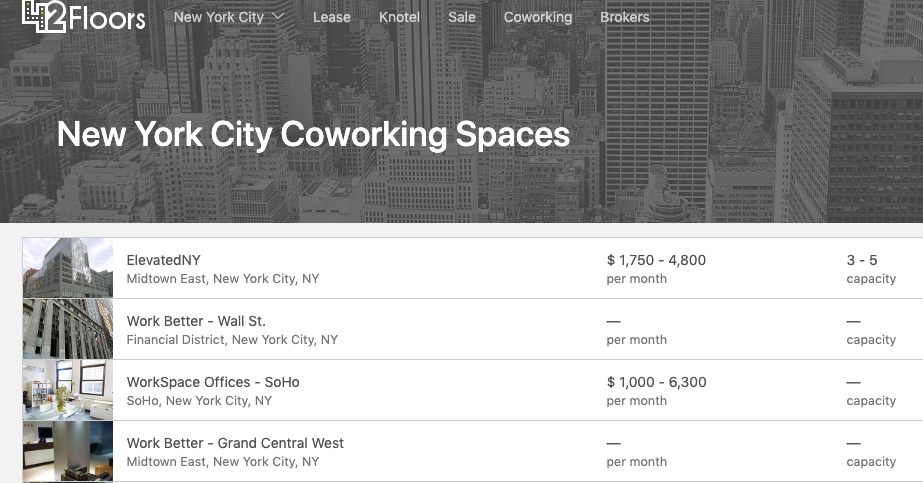 42Floors strives to be the Google of commercial real estate with a database of millions of searchable listings. Like Google, the 42Floors website layout is intentionally simple and features a search bar that asks for market, city, or address. Other features of this LoopNet competitor include direct broker contact and new listing alerts.
42Floors gathers its listings by aggregating US commercial properties for sale, lease, sublease, and coworking. The platform also provides a learning center with content about leasing, buying, office space costs, negotiations, space buildout, and space selection. The research section of the site provides listing rates, sizes, median rates, and rates by submarket for a wide range of metropolitan areas.
The 42Floors Elite package offers improved listing exposure which might be akin to Google Ads. Meanwhile, the Elite Tenant Rep product allows brokers to market their services to occupiers. Elite packages also open up advanced analytics options.
42Floors takeaways:
Commercial real estate search engine
Paid plans allow for improved positioning
Limited filtering and customization
Handy tool to estimate space by number of people
9. Truss – The small business alternative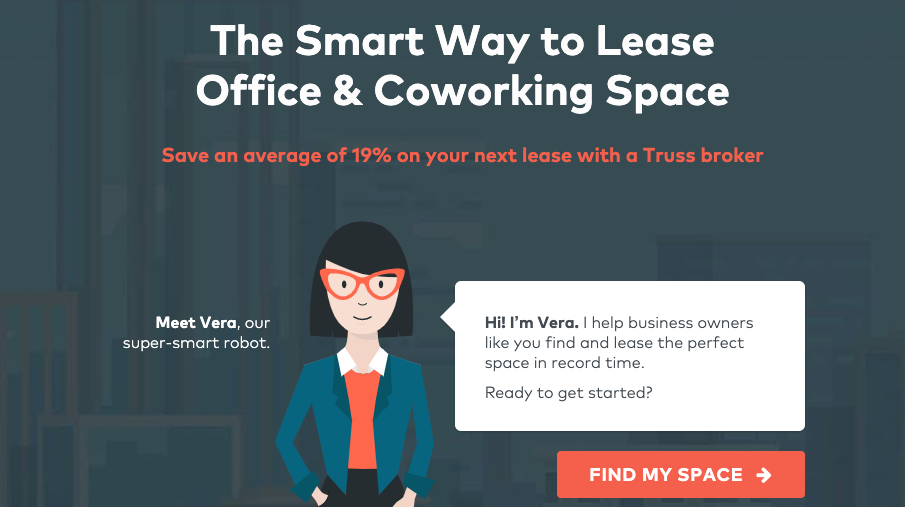 Truss is a niche-focused LoopNet competitor that targets small businesses. Therefore, Truss is geared for the occupier rather than the broker, since it has its own in-house brokerage team. Users can search, compare and find office, coworking, industrial, and retail lease deals. Truss provides access to personalized search results on over 300 million available square feet.
The Truss platform enables small business owners to find the right space via and its in-house broker team. Truss claims to be the only service of its kind with full price transparency when comparing traditional and coworking office space rates.
Truss covers major markets such as Austin, Boston, Chicago, Dallas, Houston, Los Angeles, Miami, Philadelphia, San Antonio, and Washington D.C., but may expand to other metro areas.
Truss takeaways:
Friendly, highly personalized service
Meant for occupiers looking for space
Co-working space specialty
Virtual office tour feature
10. Brevitas – Private and off-market global alternative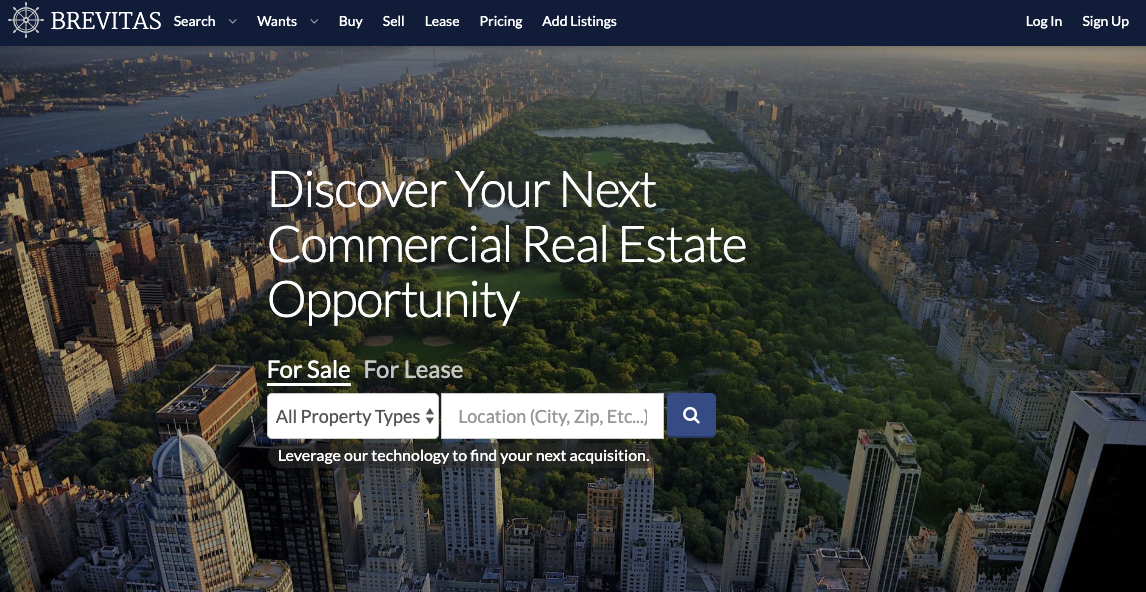 Brevitas is an online commercial real estate marketplace – including private, open, and off-market listings. Brevitas also provides digital marketing tools to offer a complete package to CRE pros seeking advanced LoopNet alternatives.
Brevitas boasts the largest selection of private inventory available online. Over 30 percent of listings on the site are only available to verified investors. Also, Brevitas is a global brand with listings in over 60 countries.
An advanced machine learning algorithm connects Brevitas users with investment opportunities that match interests. On the sales end, a full-on suite of tools is available, such as email templates, analytics, marketing automation, and internal communication tools.
Brevitas takeaways:
Built for larger investors, high profile assets
Full suite of tools and connectivity options
Global reach, pre-vetted investing
Matching algorithms improve speed and results
11. Public Records – Specific property alternative
Every digital platform has some risk of error. In most cases, data is entered manually, and it's difficult to screen for mistakes. For those interested in a specific property or property aspect, public records may provide the highest level of accuracy. Remember though, even the public record might be filled out incorrectly.

Public record can be accessed online or in-person and is usually affiliated with the local county's assessor office. Information such as sales deeds and debt information help assess the financial standing of a property owner. The public record may also be used in combination with other LoopNet alternatives to get a more complete profile of any given property.
Public profile takeaways:
Highly accurate, in-depth single property evaluation
Can complement or confirm other sources of data
Not meant to analyze trends or find deals
Summary
Despite being one of the most popular CRE solutions online, LoopNet isn't all things to all users. There are many alternatives that can replace LoopNet altogether, especially for specific needs. In many cases, a combination of resources may be required. The good news is that today, more than ever, CRE professionals have a diverse set of tools at their disposal.
What is Loopnet?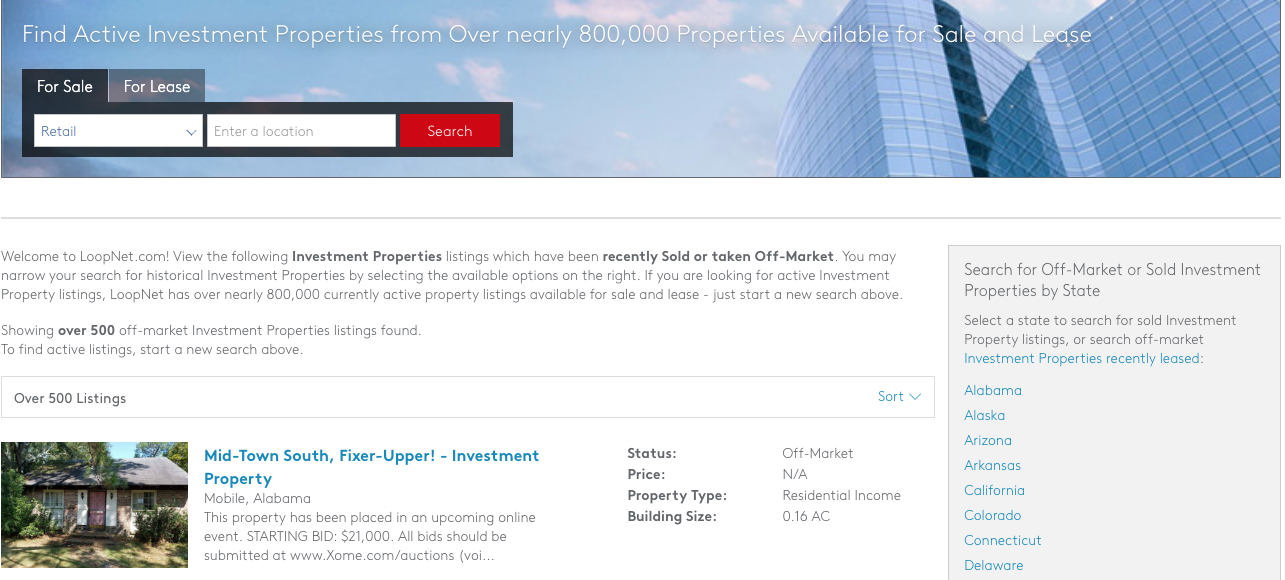 LoopNet is a searchable online database for commercial real estate. The largest website of its kind, property investors and real estate brokers can use LoopNet to search for and find commercial properties for sale or lease.
The site data to real estate investors, brokers, property owners, tenants, or appraisers, including pricing data, building size, lot size, capitalization rate, and other property level data.
How do brokers and investors use LoopNet
At its core, LoopNet is a searchable database to help find property level data and listings, but LoopNet can also be used by investors and brokers who want more insight into real estate markets.
Investors often use LoopNet to identify and target properties and locate property owners.
Similarly, investment brokers can use LoopNet to target properties on behalf of clients, and also prospect to find new investors to add to their client base. Leasing brokers use for lease listings to identify available space and rates.
Where LoopNet is lacking, however, is in providing market insights about closed transactions (comps). For comps, brokers, appraisers, and investors in real estate are better served by resources such as CompStak, which can be used alongside LoopNet.
Related Posts
Guide to the Best Commercial Real Estate Listings Sites
Guide to the Best Commercial Real Estate Listings Sites
Key Metrics for Commercial Real Estate Underwriting
Key Metrics for Commercial Real Estate Underwriting
Prospect for new opportunities and validate market assumptions
Prospect for new opportunities and validate market assumptions