Modern commercial real estate software empowers CRE professionals to gain decision-making capability and insight unlike ever before. Each CRE tool has its own niche, whether it's for comps, research, management, construction, or removing friction to close deals faster.
Here's a list of some of the most useful CRE software out there. Each platform can inject value into commercial real estate businesses from day one.
List of Leading Commercial Real Estate Software
1. CompStak
2. Real Capital Analytics
3. Moody's Analytics CRE
4. VTS
5. Trepp
6. ARGUS
7. Yardi
8. Dealpath
9. Enertiv
10. Juniper Square
11. Ten-X
12. Procore
CompStak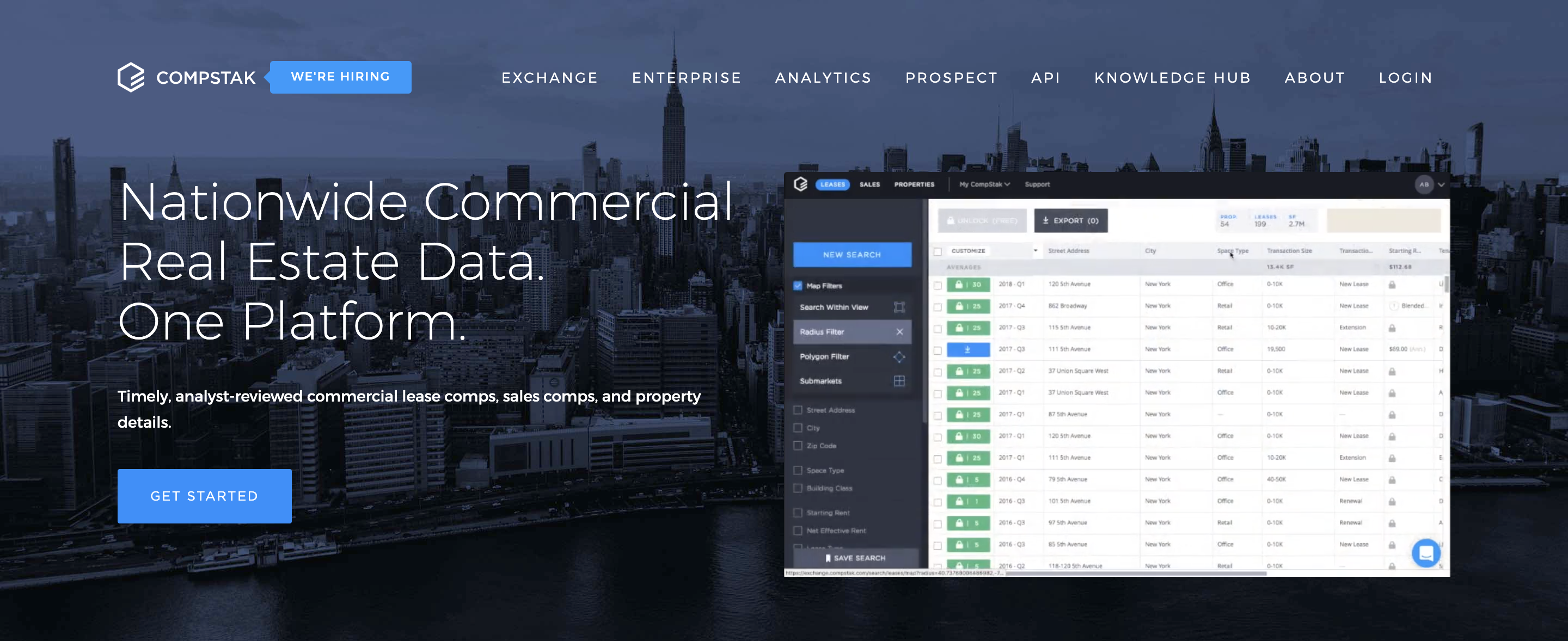 CompStak is the leading crowdsourced commercial real estate data and analytics platform that offers lease comps, sale comps, property information, and analytics tools. CompStak works by gathering data from professionals at leading commercial brokerages and appraisal firms. Meanwhile, a team of CompStak data scientists and researchers works to ensure the highest level of data integrity possible.
CompStak provides highly granular insight into comparables including net effective rents, SQFT, tenant allowance, free rent concessions, and more. This enables CRE professionals to answer key questions and boost their level of service. CompStak also provides access to comps that might be hard to find otherwise.
CompStak's real estate market intelligence gives CompStak's clients and users key information about market trends, custom data sets, and nationwide market comparisons to make better real estate decisions.
CompStak highlights:
Identifies investment opportunities and key prospects for new clients.

Users stay up-to-date with market trends and insights.

Highly accurate & relevant data on lease and sales comps.

Attention to granular detail (up to dozens of details per comp).

Advanced mapping tools for more agile asset analysis & insight.

Custom reports, robust analytics, and advanced forecasting.
Real Capital Analytics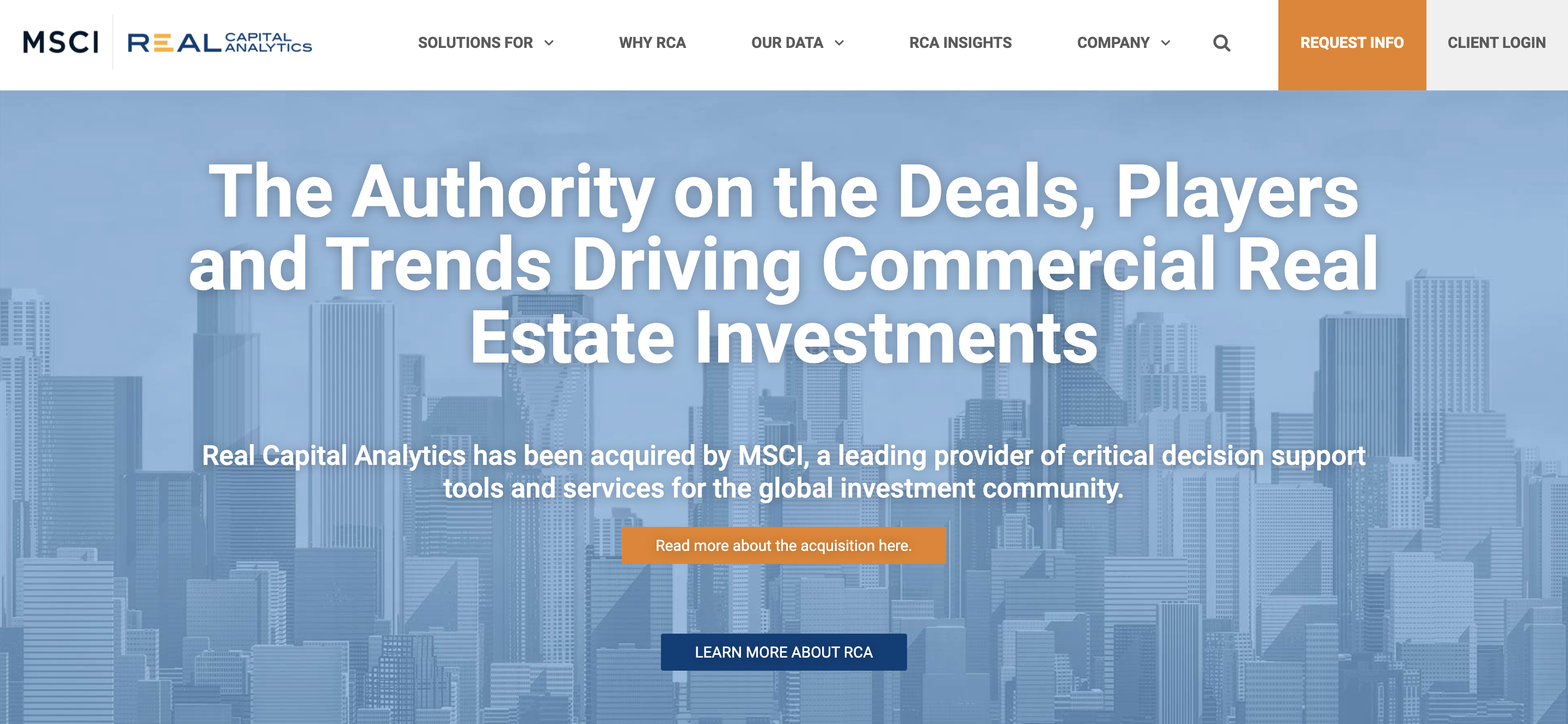 The Real Capital Analytics, Inc. (RCA) commercial real estate software provides in-depth information on the deals, players, and trends in the CRE investment market. RCA has recorded over $40 trillion of commercial property transactions associated with over 200,000 investor and lender profiles.
RCA subscribers get access to micro to macro views of a variety of markets to formulate strategies, source new opportunities, and execute deals. RCA provides reliable transaction data and valuable intelligence on market pricing, capital flows, and investment trends.
RCA Highlights:
Large database of commercial real estate transactions, developments, property sales, recapitalizations, and refinancings.

Real-time coverage across all markets and property types.

Detailed pricing and ownership information.

Backed by real estate professional research and rigorous methodology.
Moody's Analytics CRE (formerly REIS)

Moody's Analytics CRE is a CRE software solution that provides expansive data and analytical expertise from across the Moody's organization. Moody's delivers integrated analyses of commercial real estate market metrics for enhanced decision-making.
This CRE platform brings transparency and efficiency to CRE markets by offering thought leadership, validated data, rigorous analytics, and cutting-edge workflow solutions. The software is built to support commercial lenders, investors, and brokers.
More recently, Moody's introduced climate risk scores to quantify the exposure of commercial properties and geographies to the physical impacts of climate change. This provides investors, brokers, and lenders a more holistic view of risk exposure.
Moody's highlights:
Evaluates market, submarket, and property performance with market analytics and KPIs.

Built to improve property research, market listings, prospects, and leads.

Monitors and manages risk through risk analytics, stress testing, and loss provisioning.

National, free-to-search commercial real estate database features for sale and lease availability.
VTS

VTS commercial real estate software is built to empower leasing and asset management decisions. This highly useful CRE tool facilitates dealmaking between landlords, brokers, and tenants.
As per VTS, their software enables CREs to convert leads to leases by an increase of 41%. MarketView is the VTS market benchmarking product that gives landlords real-time information to improve deal negotiations and leasing strategies.
VTS highlights:
VTS is an integrated online marketing platform and marketplace.

Represents 11B square feet of space managed on VTS software.

VTS Market & Marketplace is designed to drive tenant demand for landlords.

Streamlines the leasing process for tenants and tenant rep brokers.
Trepp
Trepp is a leading provider of data, insights, and technology solutions designed for structured finance, commercial real estate, and banking. Trepp CRE tools help primary and secondary market participants to increase operational efficiencies, information transparency, and investment performance.
Trepp serves its clients with products and services to support trading, research, risk management, surveillance, and portfolio management.
Trepp highlights:
Provides access to a large catalog of securitized loans with accompanying information.

Supplies geographical statistics and trends for comps and benchmarking.

Owns and operates Commercial Real Estate Direct, a source for high-end news and information for professionals in the CRE industry.
ARGUS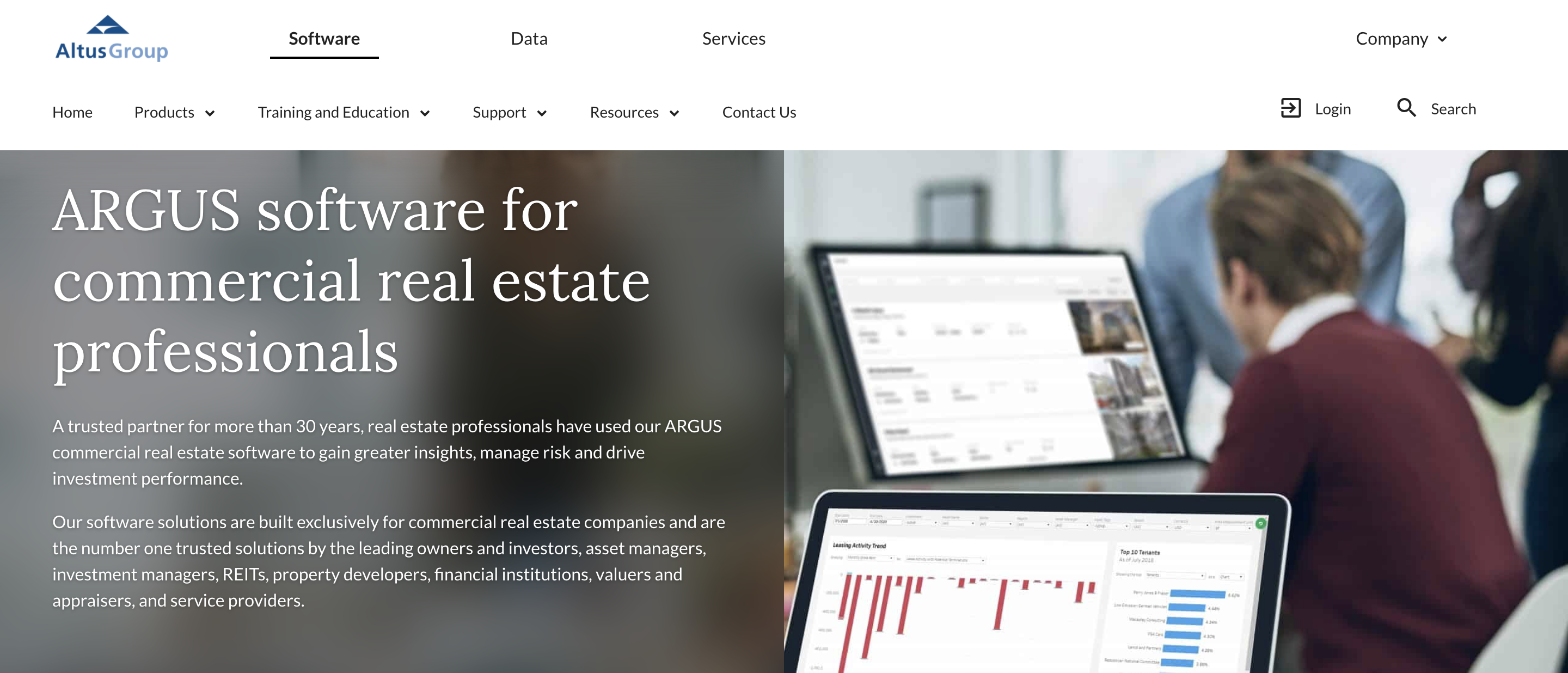 ARGUS commercial real estate software provides insight into commercial portfolios to improve investment performance and manage risk. This CRE tool enables you to run a detailed 'what-if' analysis on an individual property or an entire portfolio.
Analysis results reveal how changes in operating assumptions may impact returns. You can also run market stress tests to understand how your CRE investments will react to different market conditions.
ARGUS highlights:
Improves real estate asset management efficiency.

Enables management of a variety of real estate property types, such as office, commercial, industrial & logistics, retail, multi-family/build-to-rent, and hotels.

Groups assets by tenant type and runs detailed portfolio analysis and reporting.
Yardi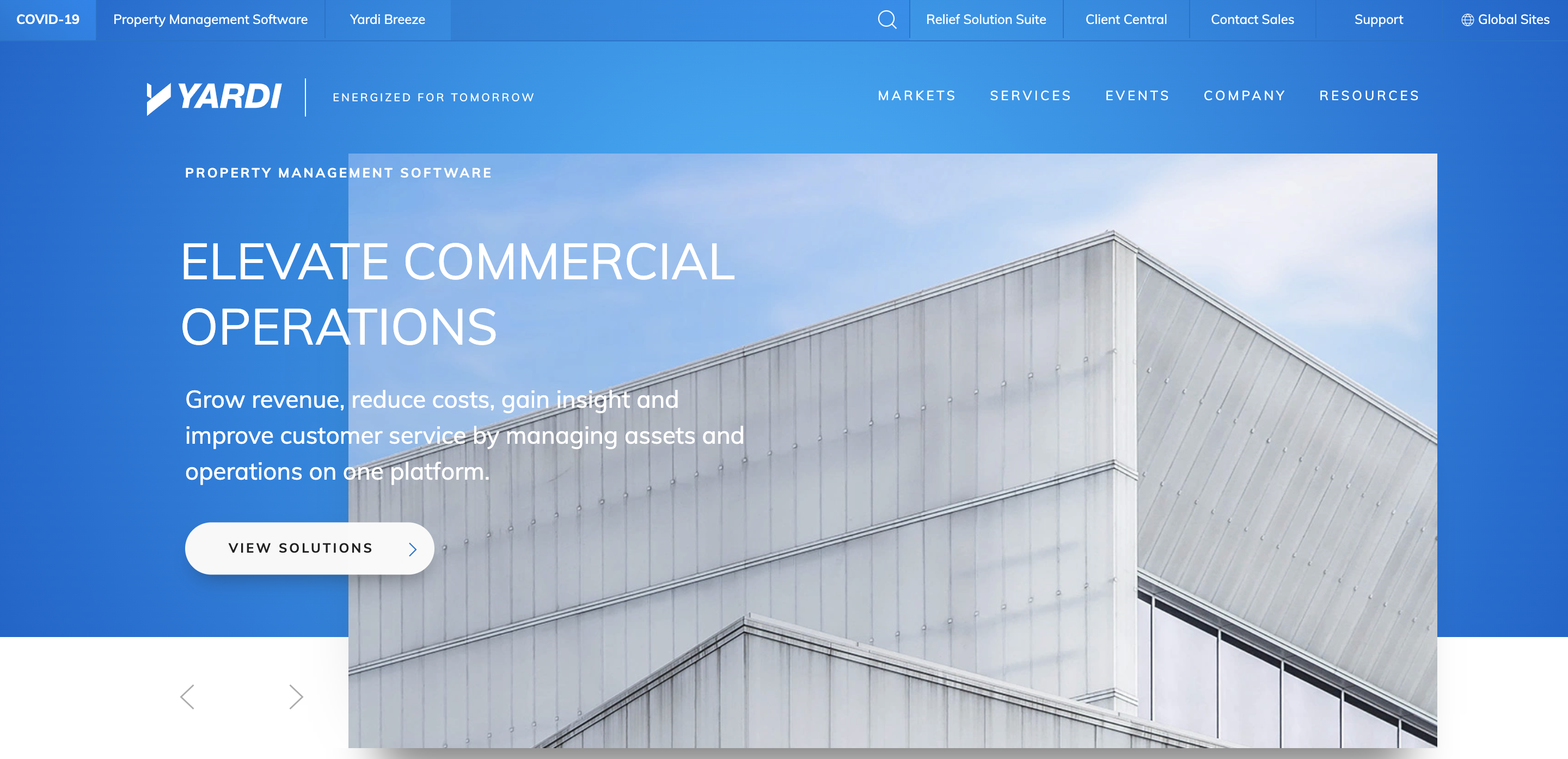 Yardi CRE software assists in the design, development, and support of real estate investment management and property management. This software platform provides full business solutions for a wide range of commercial real estate markets, including multifamily, single-family, affordable, public, senior, and military housing as well as office, industrial, and retail market segments.
Yardi highlights:
Combines management and accounting tasks with ownership, financials, budgets, forecasts, construction, and maintenance insights.

Asset management tools provide visibility into commercial portfolios.

Maintains data integrity and reduces risk to assist in deal closing, project completion, and forecasting.
Rockport VAL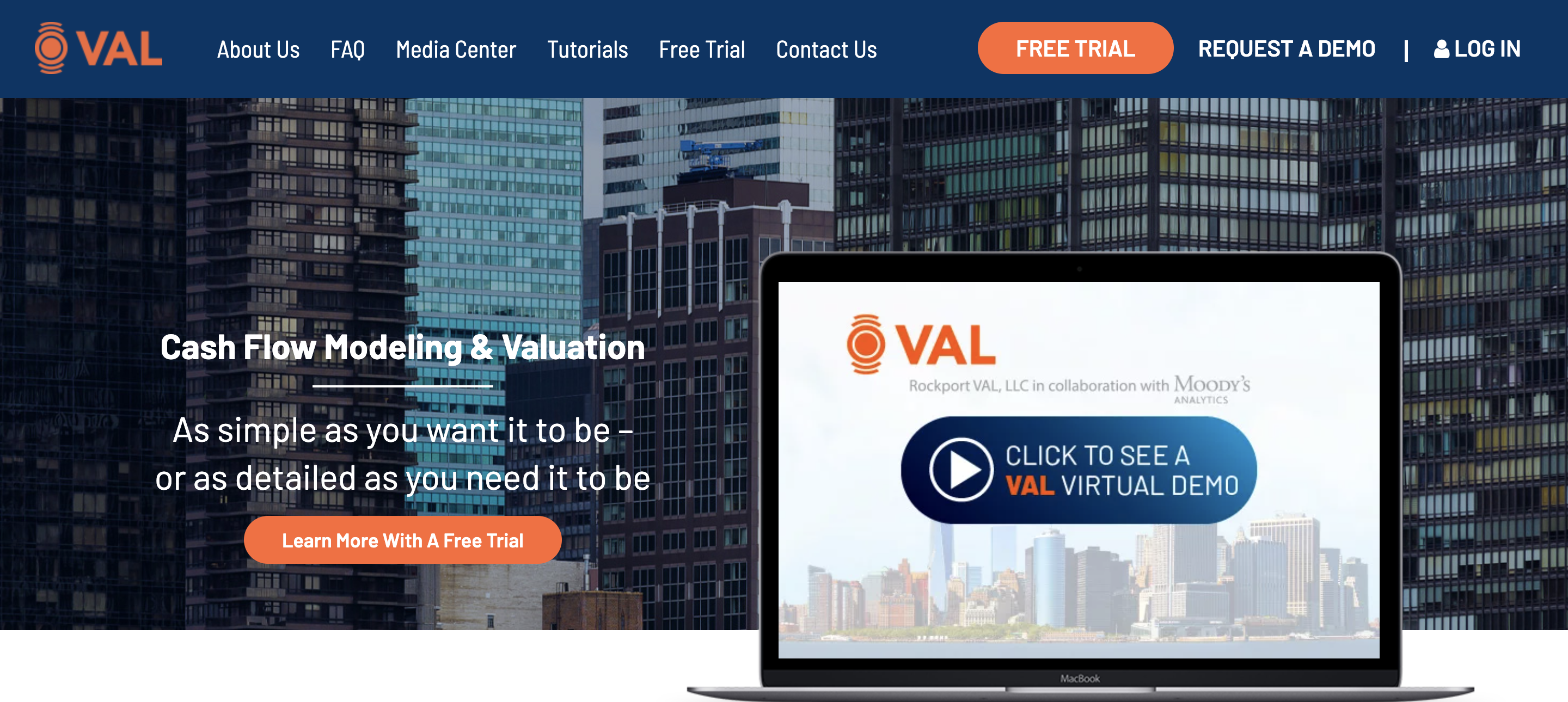 Rockport VAL is a commercial real estate software cash flow modeling and valuation tool. The VAL technology helps individual users and companies streamline their modeling experience.
From a 10 year discounted cash flow (DCF) to a simple, one-year stabilized cash flow analysis, VAL users can take advantage of over 70 built-in reports. This software supports modeling and valuation for office, retail, industrial, mixed-use, multifamily, hotel, student housing, self-storage, and more.
VAL highlights:
Enables rapid, versatile CRE cash flow modeling and valuation.

Cloud-based platform allows users to create, share, and collaborate on models from any device.

CRE software's API architecture lets users leverage data flow into and out of the platform via third-party sources.
Dealpath

Dealpath is an all-in-one commercial real estate software package that focuses on CRE deal management, execution, and reporting. From acquisition to disposition, this CRE software platform works by tracking and organizing relevant data, files, task owners, and documents.
Through automated report building, Dealpath provides the visibility required to easily identify deal status along with the connectivity to execute on them. The result is healthy portfolio performance and growth.
Dealpath highlights:
CRE deal management, execution, and reporting platform.

Records detailed deal data throughout the investment cycle.

Identifies upcoming tasks and assignees and enables collaboration across teams.

Automates reporting and prioritizes closing deals.
Enertiv

Enertiv is a CRE software platform that enables users to digitize operations and provide real-time visibility into the performance and maintenance of critical infrastructure for commercial real estate assets.
The platform can be implemented modularly from mobile apps to predictive analytic tools delivered through system integrations and sensor deployments. According to Enertiv, their CRE software solution can increase asset value by an average of $3.47 per square foot while delivering a payback period of under a year.
Enertiv highlights:
Enables on-site teams to operate buildings at peak performance.

Improves visibility into maintenance, energy efficiency, capital planning, tenant billing, and indoor environment control.

Can automatically create digital equipment and meter inventory along with a live feed of maintenance logs and vendor check-ins.
Juniper Square

Juniper Square serves private equity with commercial real estate software solutions to improve private partnership management. The Juniper CRE platform provides real-time information and workflow for all stakeholders involved in a private partnership. The results are lower administrative costs, increased investor satisfaction, and the ability to raise more capital.
Juniper Square highlights:
Provides integrated data rooms, lead management, online subscriptions, and a CRM designed for private fundraising.

Enables automated return calculation, waterfalls management, and investor workflows.

Trusted by over 1,200 General Partners to manage over 200,000 investors and $1.5 trillion in assets.
Ten-X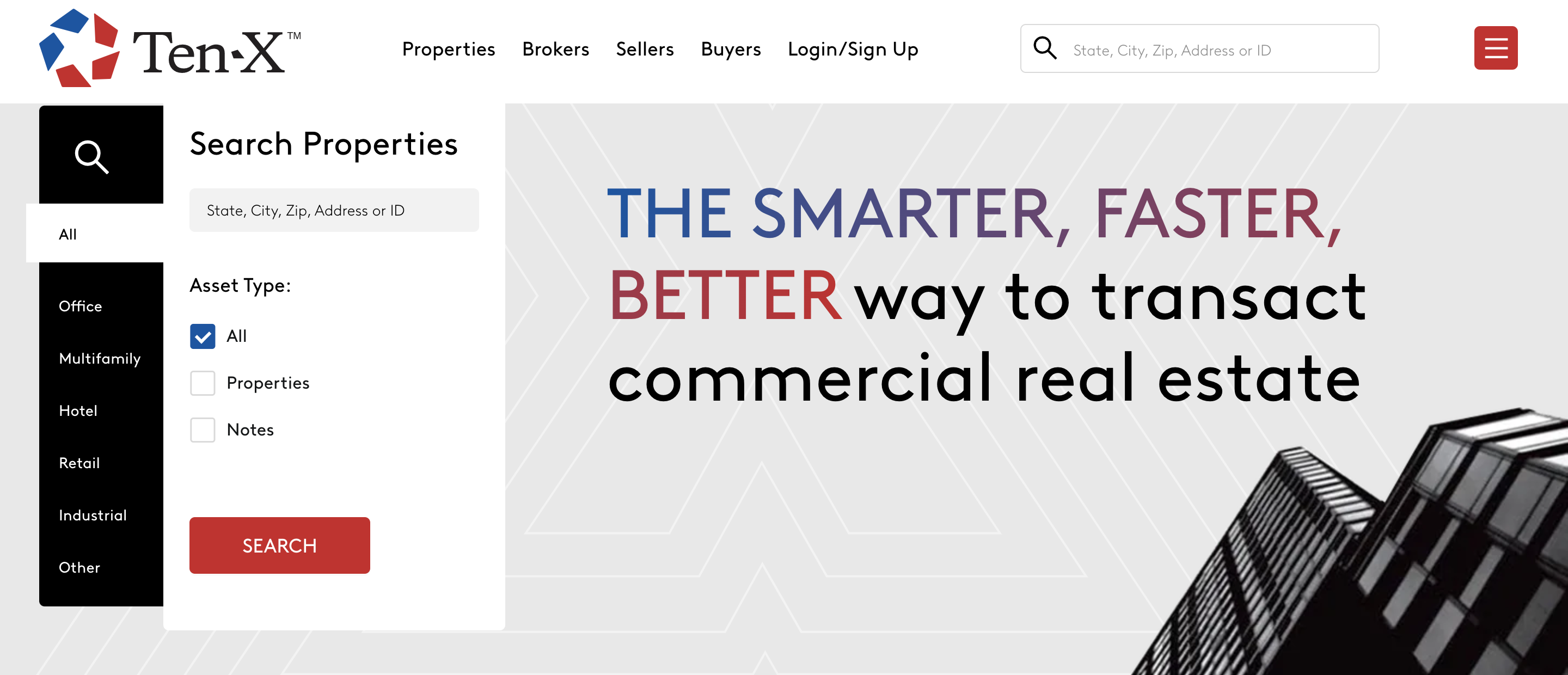 Ten-X is an end-to-end transaction CRE platform that powers over 90% of online CRE sales. This CRE software equips brokers, sellers, and buyers with data-driven technology and comprehensive marketing tools to boost market visibility and accelerate time to close.
The Ten-X commercial real estate software facilitates asset onboarding, real-time marketing campaign evaluation, and follow-up on pre-qualified leads. By aligning investing goals, buyers are matched with properties using advanced market analysis and due diligence documents.
Ten-X highlights:
One of the largest online CRE auction databases.

Provides full-service, no-cost transaction resources.

Offers buyers access to new auction opportunities and simplified transaction pathways.

Puts sellers in contact with one of the largest buying pools in the world.
Procore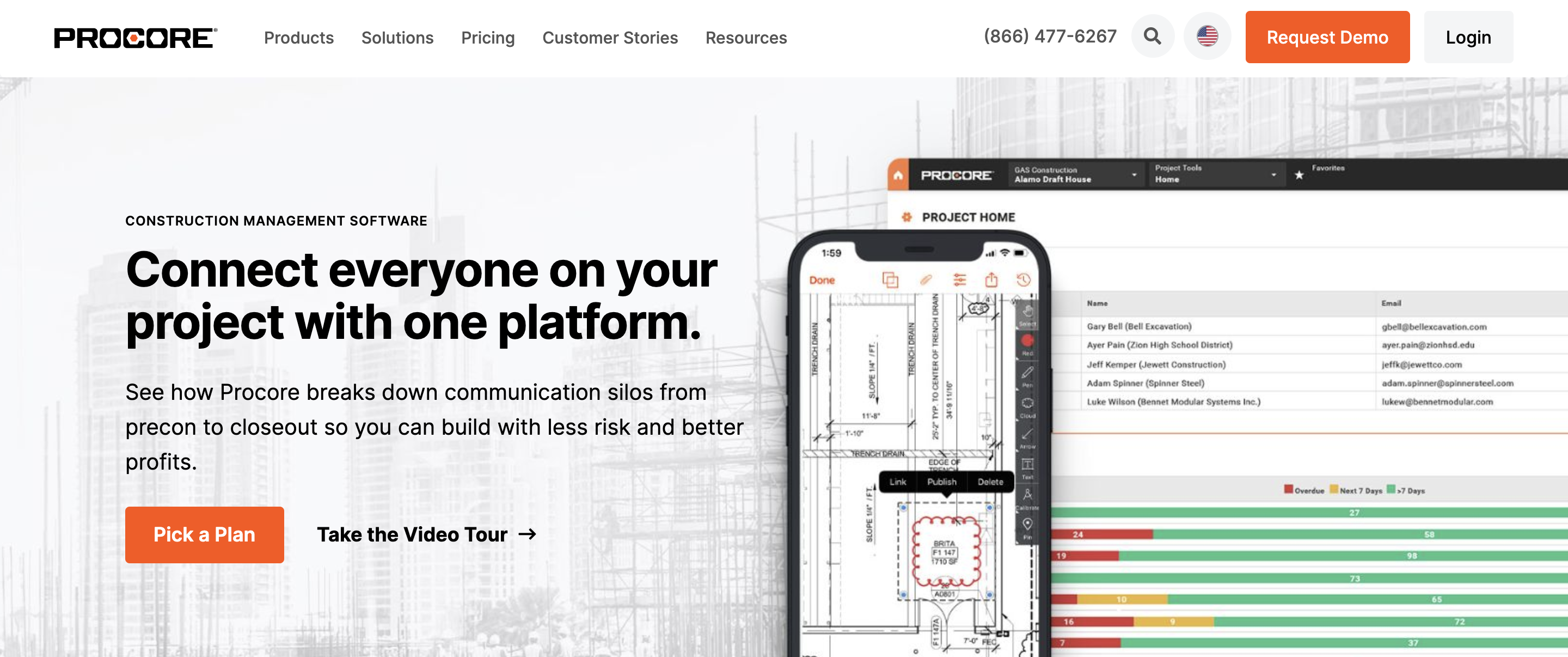 Procore is a leading construction management software CRE platform. It provides cloud-based construction software to clients with a comprehensive suite of project management tools. This CRE software lets users manage all types of construction projects, such as industrial plants, office buildings, apartment complexes, university facilities, and retail centers.
In commercial real estate construction, many firms still rely on paper-based documentation, email, and excel spreadsheets for project management. Procore boosts construction project success rates with collaborative software that simplifies project management.
Procore highlights:
End-to-end CRE construction management platform.

Improves efficiency and accountability by streamlining and mobilizing project communications and documentation.

Real-time data access minimizes project risks and delays.
Related Posts
Product Update: The Full Picture with Multifamily Data
Product Update: The Full Picture with Multifamily Data
How the Supply Chain Crisis Impacts Industrial Real Estate
How the Supply Chain Crisis Impacts Industrial Real Estate
The Importance of Transparency When Sharing Data: Podcast Recap
The Importance of Transparency When Sharing Data: Podcast Recap