How do you usually go about gathering information on concession data?
If you are like most, you likely call upon your network to figure it out. But in the ever-changing landscape of the CRE industry, it takes a lot of time to collect enough data points to confidently navigate through all these varying concession trends.
Here's how you can find accurate concession data more quickly and more easily with CompStak.
Types of concession data you can find on CompStak
With CompStak, you can access averages for free rent and TI allowance values, net effective rent, starting rates, and other comp details in any market, submarket, or custom property set. You can also analyze market performance and a space's potential by looking at concession averages.
To start, let's take a look at an example of a comp with complete concession data:

Free Rent (Abated Rent)
The majority of our lease comps include the free rent provision. When you're looking at comps on CompStak, it's important to note that if the Free Rent value says "0m" this means that the deal did NOT include a free rent period. If we don't know whether or not the deal included free rent, we leave this field BLANK.
TI/Work Allowance
Most of our lease comps also contain the terms of the Tenant Improvement Allowance agreement (sometimes referred to as TI, TIA, or TA). Just like with Free Rent concessions, we don't display a value in the comp's TI fields if we don't have any firm information on a deal's TI Allowance clause, and instead leave it BLANK. If our research shows that the tenant did NOT receive a Tenant Improvement Allowance as part of the deal, we will record it as: "$0"
Concession Notes
This particular type of concession data is the most unique to CompStak. Concession Notes like the below are collected directly from our members (oftentimes, from someone directly party to the deal) and contain a level of detail that a simple numerical value can't provide.

Delayed Commencement
At the end of 2020, the CompStak Data Science Team discovered an interesting trend. In 2020, the median number of days between lease execution and commencement dates for office space increased by a full month, to 126 days nationwide. This is more than one month longer than the average over the prior 5 years.
Landlords understand that if they don't sign the prospective tenant now, they may have to wait awhile for another opportunity to fill the space. Meanwhile, tenants realize that they won't have employees in the space any time soon, but they want to lock in the deal today. The best solution for both parties is to sign now and delay commencement. While the space may be vacant for an additional few months, this still benefits the landlord as the delayed commencement doesn't decrease the net effective rent.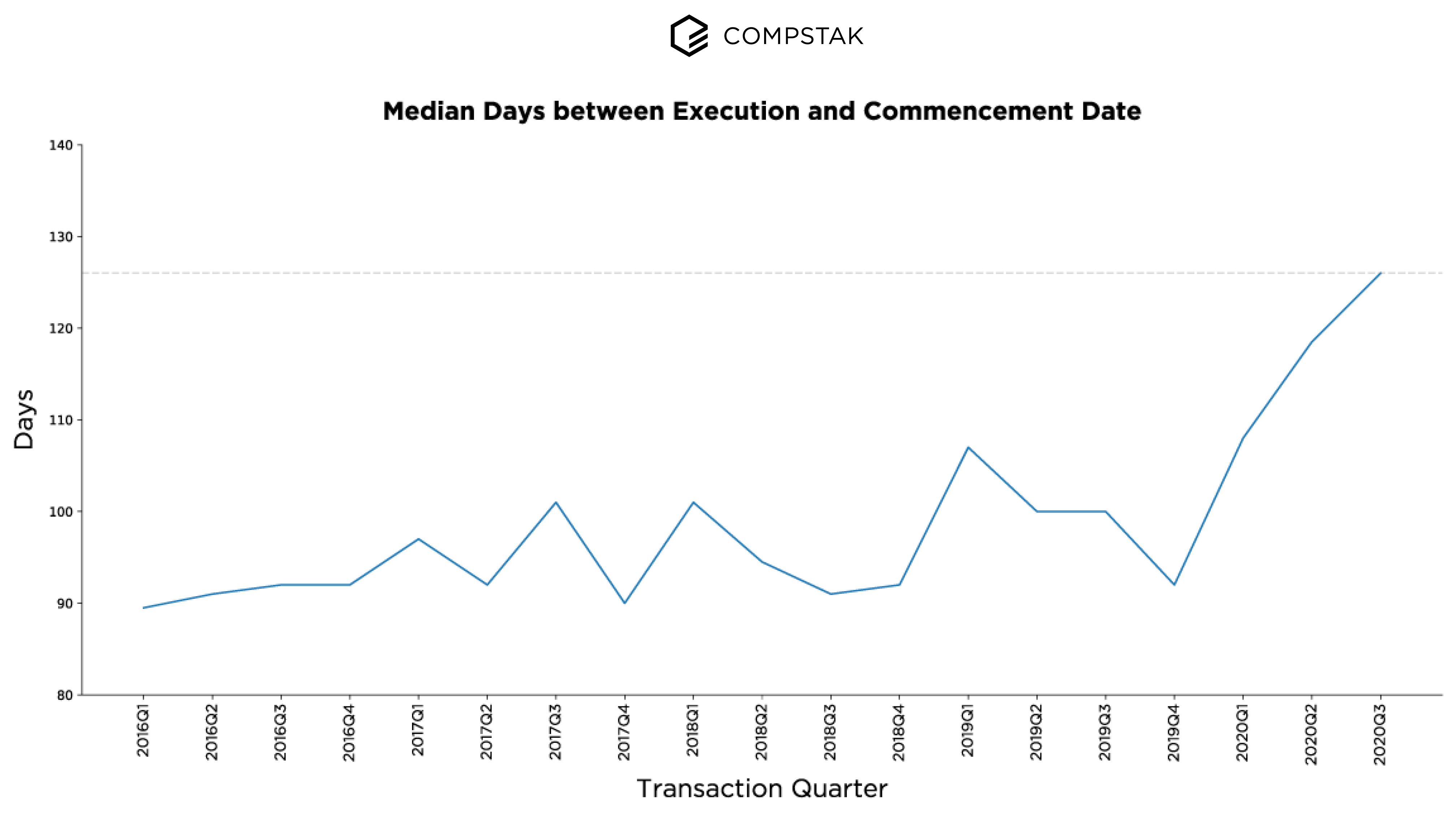 What if the comp you're interested in doesn't include concession terms?
You can still get the data you need by looking at other comps in the same building or in competitive buildings nearby. Most of these comps will have concession data, so you'll still be able to make a fair assessment of current concession trends.
Tips & Tricks: Where to find Free Rent and TI averages
CompStak's Market Dashboard includes a Lease Insights section where you can find averages for TI value and Free Rent in addition to Market Rent, Net Effective Rent, and Lease term. You can view lease insights based on a custom set of filters and adjust moving averages to 6, 12, and 24 months.

How to find Free Rent and TI on CompStak
Start your search by setting up your filters
Click Refine Leases to enter the list view
Scroll to the right to see all the columns, including Free Rent and TI Value
Can't find it within the columns?
All you need to do is customize the columns in your CompStak account:
Enter the list view by clicking Refine Leases

Click Customize below the (dark blue) Export button

Select the additional columns you'd like to see and they'll immediately be displayed
Tips & Tricks: Export or download concession data from CompStak
You can export concession data — along with all the other deal details — and show it to your clients or prospects:
Select an unlocked comp (or unlock the comp if you haven't already)

Click Export and select PDF or Excel format

If exporting to PDF, you can add your logo, add your client's logo, enter comments, and hide or change any of the data fields and values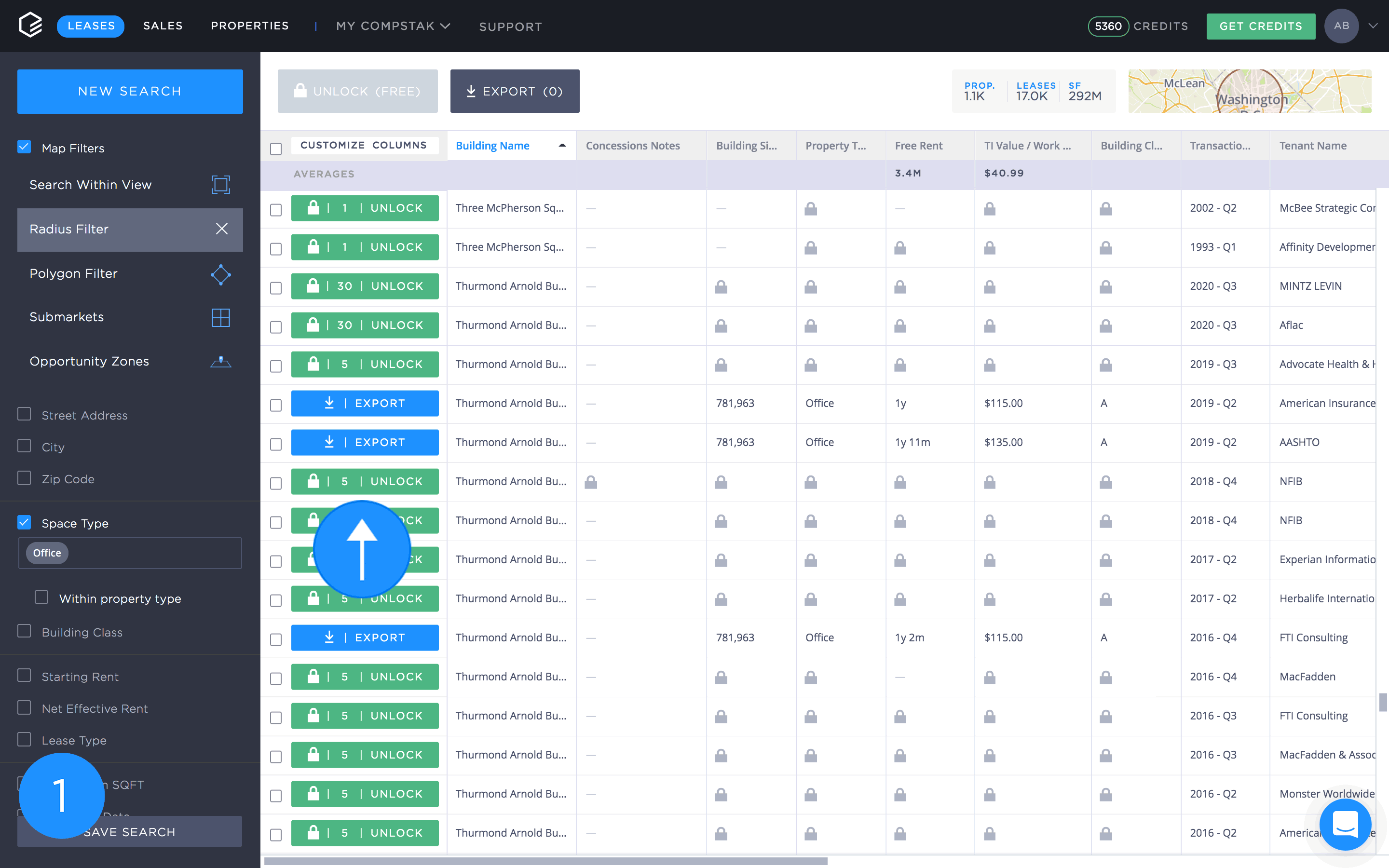 Related Posts
The Future of Core Markets
The Future of Core Markets
CoStar Alternatives for Commercial Real Estate Appraisers
CoStar Alternatives for Commercial Real Estate Appraisers
MARKET INTEL: Downtown and Suburban Retail: Comparing Performance Across Ten Metros
MARKET INTEL: Downtown and Suburban Retail: Comparing Performance Across Ten Metros