Here's How Our Telecom Clients Use Buying Windows Data for Their Cold Outreach [Steal Their Templates]
If you sell telecom or internet services, you know that timing is the trickiest factor in your sales process.
Your prospect can match the Ideal Customer Profile to the T.
You might know all the right contacts and get their emails and direct phone line.
Your internet can have zero downtime.
And yet — all of your prospecting will go nowhere if the company you are trying to court is not currently trying to buy telecom/ISP services.
This is exactly why it takes 6.5 hours on average to book one meeting.
This is ALSO why telecom companies are notoriously behind their peers from other industries when it comes to reaching their revenue goals.
The answer might be simple.
Sales reps should stop playing a numbers' game and improve the timing of their telecom outreach.
Unfortunately, this is easier said than done.
Interestingly, the internet doesn't offer much guidance for improving timing for telecom sales teams — which is why we've put together this blog post.
We believe that the way to improve your sales process (while also making your prospecting less gruesome) is spotting buying windows and letting them guide your outreach.
Now, what are those? A buying window is this extremely limited time period when companies are actually shopping for your services.
We've talked to ~100 sales reps who sell telecom and internet services and compiled the list of buying window data they find the most successful.
Here are the examples — feel free to take them for a spin!
#1 Company relocates to a new space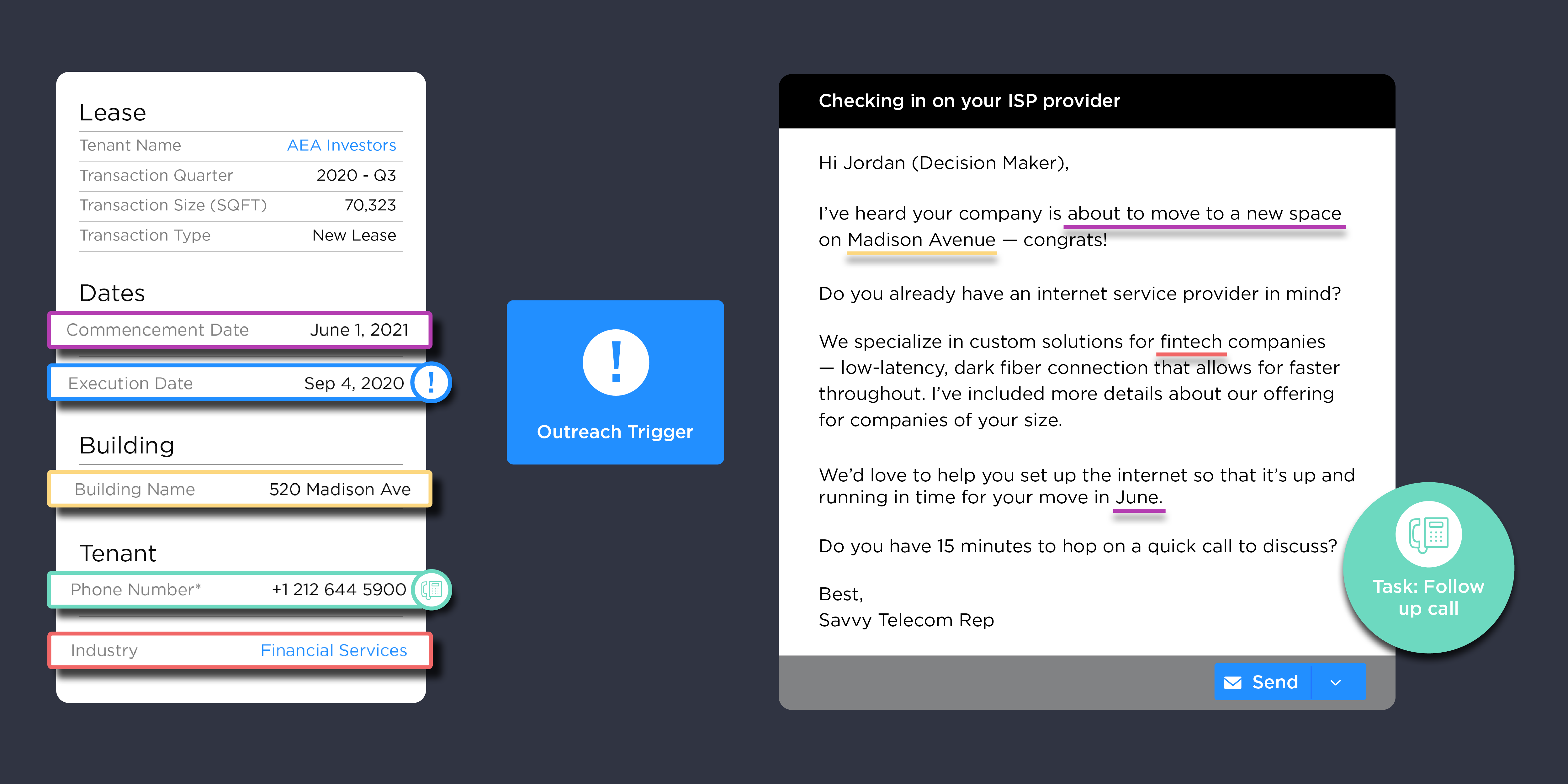 The odds of getting a meeting at a company that is about to move to a new office is x2.5 higher.
This makes sense — a decision maker will need to talk to telecom and internet service providers and set up the new location in anticipation of a move.
How do you track this data?
Look out for companies that have just signed a lease for a new space.
Here are some ideas on how to track this data:
Publications that specialize in commercial real estate transactions (for example, The Real Deal)

Public records


Google alerts for leasing news (if a company if big enough)

Commercial real estate databases such as CompStak Prospect, that have records for the most leasing transactions that happen in the U.S.
CompStak access is provided on a subscription basis, but you gain access to data otherwise unavailable.
How the outreach might look like:
"
Hi, Mr. Decision Maker,
I've heard your company is about to move to a new space on Madison Avenue — congrats!
Do you already have an internet service provider in mind?
We specialize in custom solutions for fintech companies — low-latency, dark fiber connection that allows for faster throughout. I've included more details about our offering for companies of your size.
We'd love to help you set up the internet so that it's up and running in time for your move in June.
Do you have 15 minutes to hop on a quick call to discuss?
Best,
Savvy Telecom Rep
Here's why this outreach template works:
✔️ It comes at the perfect time for buying – the prospect's relocation is finalized, but their actual move will be in several months.
✔️ It shows you've done your research and provides relevant content.
✔️ It shows you understand their constraints (time of the move).
✔️ You can safely assume the Decision Maker is already in the process of shopping for and choosing an internet provider.

✔️ You direct them to a page that has all the right info and pricing that fits this company's industry and size.

#2 Class B/C building owner looks to upgrade their property
Are you prospecting property owners and managers to upgrade their buildings with fiber internet?
Our clients have found success focusing on class B and C buildings that have vacant space — and the response rate was up to 40% higher!
This made perfect sense.
It might be challenging filling in that space in class B and C buildings, especially if a property is located in a more expensive area, like Downtown Manhattan. There is a high chance that owners are looking to upgrade such a building so that they can charge higher rents. Giving tenants fiber internet would be a quick and easy win for them.
How do you find this data?
You would need to monitor class B and C buildings looking for commercial leases that are about to expire.
Some ideas how to find this intel:
Property info websites such as PropertyShark

Listings websites


Commercial real estate databases such as CompStak that show leases that are about to expire and buildings with less than 75% of occupancy rate.
How the outreach might look like:
"
Hi, Mr. Decision Maker,
I am reaching out because my records show you are the owner of the building at 1 Whitehall Street, and that you might have vacancies you are looking to fill.
A strong internet connection is key for office property owners to attract and retain tenants.
Would you consider upgrading the building?
Here at Awesome Internet, we specialize in providing low-cost, zero-downtime fiber internet. We think that might help you attract more fintech tenants that are looking at class B buildings.
I'd love to get 15 minutes of your time to discuss how we could light your building up with a reliable, cheap fiber connection.
Best,
Savvy Sales Rep

Here's why this outreach template works:
✔️ It comes at a perfect time.
✔️ The building owner/manager needs to fill in the vacancy ASAP — and better internet could mean more favorable lease terms.

✔️ It shows you recognize the owner's specific struggle — having to compete with buildings that might have better infrastructure, coupled with a time constraint.

✔️ You mention the pain point and provide a timely solution.